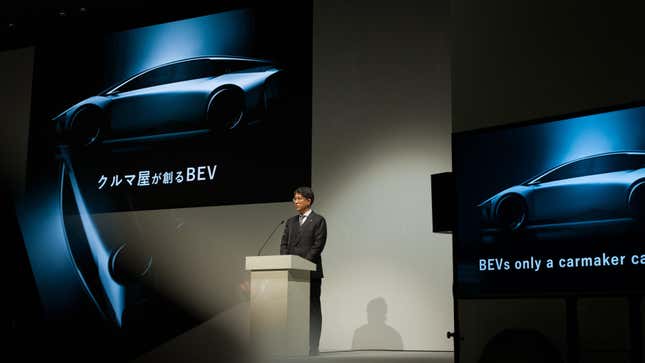 Toyota plans to introduce a next-generation EV later this year at the Japan Mobility show, formerly known as the Tokyo Motor Show. As one of the world's biggest automakers, Toyota's hard start on the road to EVs is difficult to overlook. But Toyota's new CEO, Koji Sato, says it's planning to catch up to rivals with a next-gen EV built on a new platform that'll replace e-TNGA.

In case you missed it:
Toyota's new EV is scheduled to debut in 2026, according to Automotive News, but the automaker will give a preview of it in the fall of this year. Sato and the rest of Toyota's chief executives shared details of the company's three-step plan for the EV transition, which will nonetheless rely on a combination of vehicle technologies, including hybrids, battery-powered electric cars (BEVs), plug-in hybrids (PHEVs), and hydrogen-powered fuel-cell electric cars (FCEVs).
Toyota is still reluctant to commit to one propulsion method, but the company seems less reticent under Sato to dedicate more resources to EVs. Toyota is finally rethinking manufacturing and refocusing it on EVs with big investments into their production, per Auto News:
CEO Koji Sato, in detailing the plans Wednesday, also said Toyota would invest an additional 1 trillion yen ($7.44 billion) into EV development and production through the end of the decade. That brings Toyota's total commitment to 5 trillion yen ($37.19 billion) in the period.

[...]

On Wednesday, Sato unveiled Toyota's newly christened in-house EV development center.

Called the "BEV Factory," it will be a siloed, laser-focused operation charged with reinventing Toyota's approach to EVs on everything from chassis and software to batteries and production.
That's what Toyota's new three-step plan is all about; step one is already underway with the Toyota bZ lineup; step two will be building upon its current EVs and boosting production capacity to get to 1.5 million EVs globally by 2026; and step three will kick off that same year with Toyota's next-generation EVs.

The company plans to add 10 new EVs within the next three years, to be sold under the Toyota and Lexus brands. In fact, the brief glimpse we've got thus far of the next-gen EV shows a sleek wedge-shaped car with Lexus badging. It even looks somewhat like the new (fantastic) Toyota Prius. The company plans to be selling 3.5 million BEVs by 2030, which is why this platform is so important.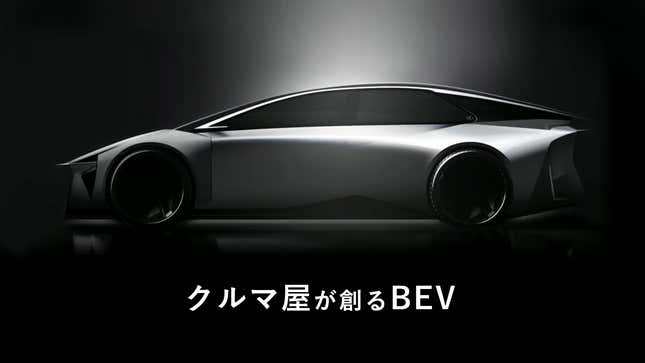 Toyota's production expertise seems to have stagnated in the EV transition, so the auto maker wants to focus on the new architecture and optimize for EVs, rather than adopting an existing platform from its internal-combustion models. That means Toyota will design everything with its upcoming EVs in mind, from the chassis, to software, batteries, and, of course, the platform's production.
Relatively new EV makers like Tesla have shaken the sleeping giant awake with streamlined production and an EV platform on the Model Y that some Toyota engineers have praised highly. But Toyota's reputation for durability remains a goal. I guess as long as obsolescence isn't built into Toyota's next-gen EVs and batteries, things should be OK.