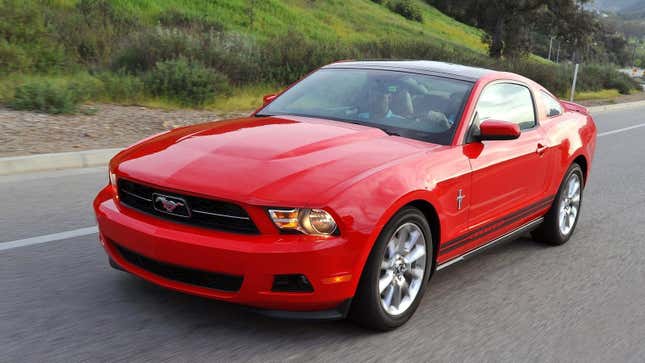 Dealing with the living can be hard enough, but the dead can still cause their fair share of problems. In Texas, for example, a "mischievous child ghost" recently pushed a shopping cart into a Ford Mustang, causing tens of thousands of dollars worth of damage. And the owner only has himself to blame.
In case you missed it:
Fox News reports that Coby Todd was headed home from his job at a local supermarket when he had what can only be described as a supernatural encounter. A ghost grabbed a shopping cart that had been sitting in the parking lot and pushed it into Todd's recently purchased Ford Mustang. Since there was no wind that day and one else around to push the previously stationary cart, there really is no other explanation.
The day before, Todd admits he had gone ghost hunting at a house in a nearby town. While he was there, he sensed a "little boy" ghost that then followed him home. But Todd isn't mad. He reportedly wants to go back to the house to talk to the child's spirit again.
Unfortunately for Todd and his Mustang, the damage the child ghost did to his car is going to cost a small fortune to repair. Todd reportedly estimates it will take $25,000 to fix the dent in what appears to be the incredibly rare and valuable 2012 Mustang with a 3.7-liter V6. To make matters worse, he only recently bought the car, so he barely got to enjoy it before the mysterious spirit pushed a shopping cart into it.
(Update: Fox has since clarified that Todd believes his Mustang is worth $25,000, not that the ghost did $25,000 worth of damage with the shopping cart. We're still skeptical of that valuation, but it's entirely possible that's what he paid.)
Sure, some may question the validity of his story, as well as the cost of the damage to what's probably at best a $15,000 car, but we don't see any reason to doubt him. How else would a shopping cart start moving on its own? And don't say a gust of wind came after he got into his car because that's even less believable than a mischievous child ghost.