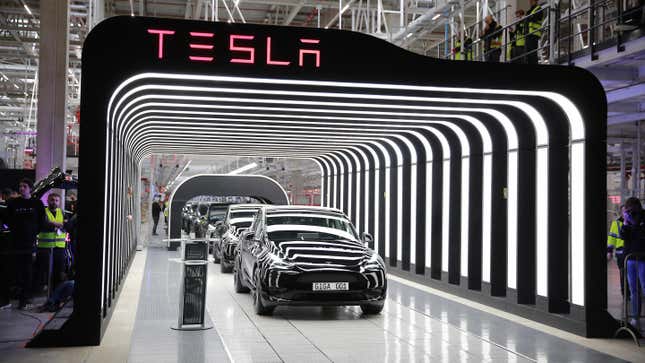 There's a reason why Tesla has been able to drastically cut its vehicle prices across the board without breaking a sweat. The automaker reportedly earns more money per vehicle than literally all of its rivals. Now, Reuters reports that Tesla is using that fact as another weapon in the EV price war.
The Austin, Texas-based company was at one point one of the automotive industry's biggest money-losers, but during 2022 Tesla built quite a lead over everyone when it comes to profit per vehicle, according to the outlet.
Tesla reportedly earned, on average, $15,653 in gross profit per vehicle in the third quarter of 2022. That blows away other automakers like Volkswagen, Toyota and Ford — Tesla averages five times the per-vehicle gross profit of Ford in particular.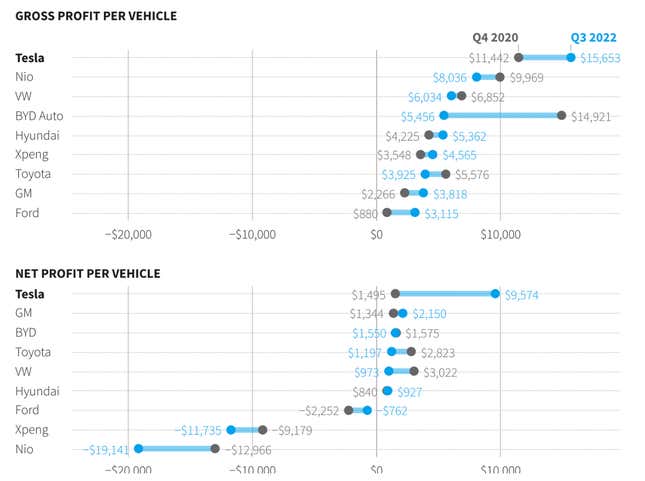 As the semiconductor shortage and other supply-chain issues took hold of the automotive industry, automakers across the board decided to focus on higher-margin models to increase profits, despite sales volume falling. That's why Tesla and most other automakers decided to fairly significantly raise prices on their vehicles. Add the fact that EV demand far outpaced overall vehicle demand in 2022, and you get some seriously high prices.
Reuters says that in order to keep production costs down, Tesla invested heavily in new manufacturing technology. One example of this is the use of large castings to replace small metal parts. The automaker has also made the decision to bring battery manufacturing and other aspects of the supply chain in-house. The company has also standardized vehicle designs to improve economies of scale, which is why every Tesla basically looks the same no matter the spec.
But now that Tesla is slashing prices, it's putting newfound pressure on the mainstream automakers trying to compete in the EV market.
"Tesla has taken the nuclear option to bully the weaker, thin margin players off the table," Bill Russo, a spokesperson for Shanghai-based industry consultancy Automobility, told Reuters. "Big pie, fewer slices, more to eat for those who remain."
Market trends like these most likely will not last forever. According to Reuters, analysts are warning that the global EV market's production capacity will soon outpace demand. It's reported that by 2026, North American EV demand will hit about 2.8 million vehicles per year. However, North American EV factories will be capable of producing over 4.5 million vehicles in the same time frame.