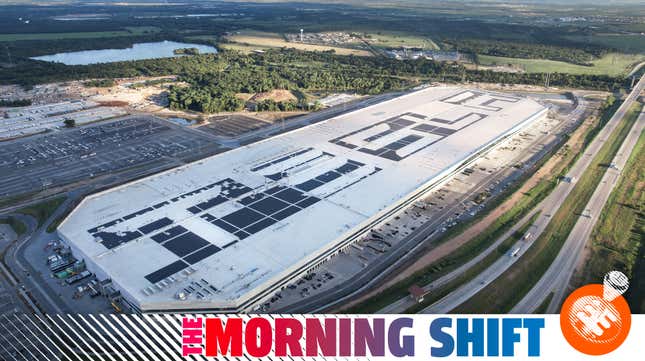 EV maker Tesla wants to expand its factory in Austin, Texas to the tune of $775 million, a new study shows traffic crashes cost U.S. society billions, and Tesla is also nearing a deal to set up a factory in Indonesia. All of this and more in The Morning Shift for Wednesday, January 11, 2023.

Tesla's Cybertruck Is Really Late to the Electric Party
1st Gear: Tesla's Giga Expansion
Tesla is mulling over a decision to expand its factory in Austin, Texas to the tune of $775 million. The move is reportedly a good indicator that Tesla isn't worried about any sort of demand issues and will be maintaining its production growth ambitions.
Regulatory filings in Texas indicate that the project could start as early as this month. Those filings with the Texas Department of Licensing and Regulation also show that the expansion will be used for Tesla to test batteries among other things. From The Wall Street Journal:
Tesla produces the Model Y crossover vehicle in Texas and has said it plans to begin building its pickup truck, known as the Cybertruck, at the plant this year. It currently has capacity to make more than 250,000 vehicles a year at the facility, the company has said.

[...]

Chief Executive Elon Musk last year said the company might open 10 to 12 new factories to increase production to meet its goal of selling 20 million vehicles by the end of the decade. The company is close to picking a location for a new factory, Mr. Musk said last month, without providing detail.

"We are applying capital at pretty close to the fastest rate we can spend capital and not be wasteful," he said.

Tesla last week reported vehicle deliveries for 2022 that fell short of Wall Street forecasts. Those estimates had already come down after the car maker signaled in October it would ship fewer vehicles than it had originally targeted. Those numbers, coupled with incentives Tesla offered in the U.S. to get buyers to take delivery of vehicles before year-end, have spurred investor concerns that demand for its vehicles may be softening.
The automaker's stock just finished its worst year in history, slumping 65 percent in 2022. The slide was mainly caused by demand issues and worries by some investors that Musk spread himself too thin when he took over Twitter. To make matters worse, Tesla is also facing a lot of new competition from legacy automakers in the EV space.
2nd Gear: Crashes Cost the U.S. Hundreds of Billions in 2019
A new study from U.S. auto safety regulators shows that motor vehicle crashes cost American society about $340 billion in 2019.
The National Highway Traffic Safety Administration conducted a comprehensive economic impact study that examined the costs of a single year of car crashes. During that year, around 36,500 people were killed, 4.5 million were injured and 23 million vehicles were damaged. From Reuters:
The crashes directly cost taxpayers $30 billion, and society as a whole $340 billion, the NHTSA found. When quality-of-life valuations were included, the total cost to society ran to $1.37 trillion - equivalent to 1.6% of U.S. economic output.

Distracted driving alone cost $98 billion, while the costs of traffic congestion, including travel delays and added fuel usage, were put at $36 billion.

NHTSA last estimated the societal cost of crashes in 2010, when it put the total at $242 billion.
Traffic deaths are also rising sharply. In 2021, the number jumped 10.5 percent to 42,915 deaths. That's reportedly the highest number killed on American roads in one year since 2005.
Deaths actually declined for the first nine months of 2022 by 0.2 percent, but Reuters reports the fatality rate is still higher than any pre-pandemic year since 2007.
The number of pedestrians killed also jumped 13 percent in 2021 to 7,342. That's the most since 1981, and the number of cyclists killed rose 5 percent to 985. According to the NHTSA, that's the highest since 1980.
3rd Gear: Tesla Has Its Eyes on Indonesia
If the Texas Gigafactory expansion wasn't enough, Tesla is also nearing a preliminary deal to set up a factory in Indonesia. Elon Musk's electric vehicle company is reportedly looking to capitalize on the country's reserve of key battery materials. From Bloomberg:
The plant would produce as many as 1 million cars a year, the people said, in line with Tesla's ambition to have all its factories globally reach that capacity. The discussions include plans around multiple facilities in the country, serving different functions across production and the supply chain, one of the people said. A deal hasn't been signed and the agreement could still fall through, said the people, asking not to be identified as the talks are confidential.

Musk and representatives for Tesla didn't immediately respond to an email seeking comment. Indonesian Investment Minister Bahlil Lahadalia said talks with Tesla are being led by the coordinating ministry for maritime affairs and investment when asked about the potential deal on Wednesday. A representative for the ministry didn't immediately respond to requests for comment.

Indonesia has long courted Tesla, last year striking a $5 billion nickel supply agreement with the carmaker. In an interview in August with Bloomberg News, President Joko Widodo said the country wants Tesla to make electric cars there, not just batteries, and is willing to take the time to convince Musk to see Indonesia as more than just a supplier of key resources.

[...]

While Indonesia offers a gateway to Southeast Asia's 675 million consumers, it's a tough market for global automakers, given affordable cars — usually priced below $20,000 — make up the bulk of sales.
The planned Indonesian factory would be Tesla's third international plant, joining the automaker's Shanghai and Berlin plants.
Earlier this month, the automaker cut prices of Shanghai-built Model Y crossovers to $38,360. That's about 40 percent cheaper than the same vehicle would be in the U.S. The move came after Tesla missed delivery targets in the last quarter of 2022 and missed its 50 percent annual sales growth goal.
4th Gear: Rivian Loses Several Top Execs
A number of top executives at Rivian, including the automaker's vice president overseeing body engineering and its head of supply chain, have reportedly left the company in recent months. It comes as Rivian fell short of its 2022 production targets. From The Wall Street Journal:
The departures, confirmed by a Rivian spokeswoman, are the latest developments in what has been a challenging period for Rivian, which has been rolling out its first all-electric models, but last year missed a critical milestone of manufacturing 25,000 vehicles. The company said it was off its goal by about 700 vehicles in part because of difficulty getting parts.
The automakers stock has also tumbled nearly 80 percent since its initial public offering in November of 2021.
The executives who have left were some of Rivian's longer-tenured employees. Among them is Randy Frank, vice president of body and interior engineering, and Steve Gawronski, the vice president in charge of parts purchasing. Both had departed around the beginning of this year.

Mr. Frank joined Rivian in 2019 from Ford Motor Co. Mr. Gawronski joined in 2018 from the autonomous vehicle startup Zoox.

Another early employee, Patrick Hunt, a senior director in the strategy team, left the company late last year. Mr. Hunt joined Rivian in 2015.

Rivian's general counsel, Neil Sitron, departed in September after 4½ years with the company, which was founded in 2009.
A spokesperson for Rivian said the moves were made to ensure the automaker has the talent and staff it needs beef up production. However, it didn't say exactly why the executives left.
"We continue to attract world class talent to our company as our business needs change," she said.
5th Gear: Audi Mexico Union Gets a W
Audi's Mexican unit has reportedly reached an agreement with its union regarding a wage increase in 2023, according to Reuters. The move reportedly will avoid a strike that was set to begin today.
Details of the agreement have no been made public yet. The Independent Union of Audi Mexico Workers (SITAUDI) and the automaker had previously negotiated two options to raise wages for the 4,000 unionized workers at the plant in the central state of Puebla.
One option offered was reportedly an 8.4 percent pay increase in 2023, and the other offered a 9.4 percent increase followed by annual raises through 2026 that would keep in line with inflation, plus one percentage point.
A SITAUDI leader said workers felt disappointed by previous multi-year deals, and respected their rejection of the new offers.
The plant reportedly opened in 2016 and produces the Audi Q5 crossover.
Reverse: What Do Doctors Know Anyway?
Neutral: My Cats Don't Fuck With Your Vibe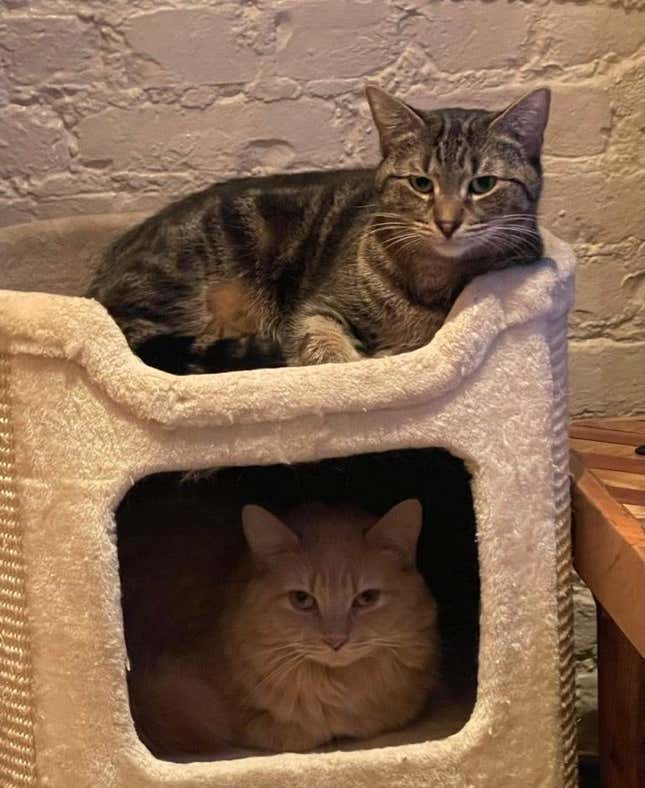 On The Radio: B*Witched - "C'est La Vie"