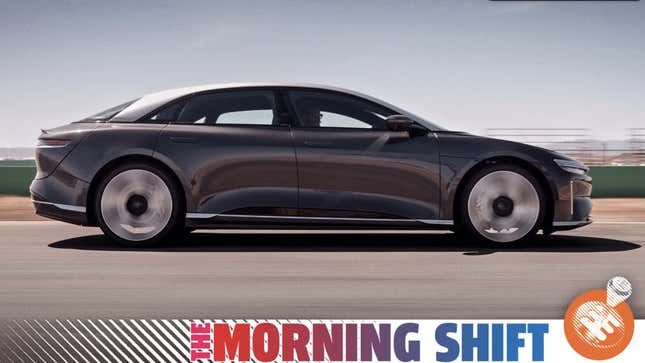 Tesla's stock price collapse has almost completely overshadowed drastic downturns from Lucid and Rivian, Toyota is gearing up for a production comeback after a number of cuts, and a parts shortage means an Italian Stellantis plant will grind to a halt. All that and more in The Morning Shift for Friday, January 20, 2023.
How the Rivian R1S Drives On-Road and Off
1st Gear: Lucid and Rivian Have Their Own Stock Collapses
There goes Tesla, stealing all the limelight! While its own epic stock meltdown has dominated the headlines over the past year, smaller EV makers like Rivian and Lucid have had it even worse.
Those two companies have lost 90 percent of their equity value from their peaks. That number makes the 69 percent drop Tesla has sustained a bit more palatable. The two companies have reportedly been struggling to rump up vehicle production partially due to supply-chain issues. It's left investors feeling a bit uneasy about highly valued companies with little or no earnings. I cannot imagine why.
"Tesla's stock performance has certainly had an impact on the group, and this group's own production issues have also weighed," George Gianarikas, a Canaccord Genuity analyst, said. From Bloomberg:
The staggering 740% climb for Tesla shares in 2020 helped spur investor euphoria around the sector. EV stocks of all kinds — whether the companies were making passenger cars, commercial vehicles, buses or niche autos — exploded as well, with even the tiniest names commanding valuations of several billion dollars. Rivian and Lucid were touted as potential "next Teslas," with valuations bigger than century-old legacy car companies.

Lucid began trading in July 2021 and its equity value topped out at $91 billion in November that year. Rivian shares peaked just days after its November 2021 initial public offering, valuing the company at $153 billion — more than Volkswagen AG, despite Rivian having zero revenue at the time.

Rising interest rates over the past year and fears of a recession have curbed investors' risk appetite, causing them to flee unprofitable companies with high expected growth. Rivian is now worth $14.8 billion, while Lucid is valued at $13.7 billion. Even Tesla, which is profitable, plunged, casting a shadow over the rest of the industry.
Both Lucid and Rivian missed their 2022 production goals. Lucid built just 7,180 Air sedans out of the 20,000 it projected at the beginning of the year. Rivian narrowly missed its goal of making 25,000 cars.
Despite that, Rivian is actually in worse shape than just about everyone else in terms of a sell-off. Bloomberg reports it is performing worse than not only Tesla and Lucid, but other EV makers like Nikola, Fisker, Polestar, WorkhorseGroup, and Lordstown Motors.
2nd Gear: Toyota Is Planning Its Production Comeback

After a rough 2022 production-wise, Toyota's global 2023 production is said to be back with a vengeance. The Japanese automaker said worldwide vehicle production could sail to a record level of 10.6 million vehicles this year.
This new target is reportedly quite a jump from the 9.05 million vehicle output record it set in 2019 before everything in the world went wrong. From Automotive News:
Toyota has gradually bolstered production plans by wrangling alternative semiconductor sourcing, building direct ties to chip makers and communicating more closely with suppliers.

The company churned out 8.58 million vehicles globally in 2021.
We do not yet have 2022 results. They are set to be released at the end of this month, but through November, worldwide output for Toyota and Lexus were up seven percent to 8.33 million vehicles.
Cranking up output past 10 million vehicles would mark a significant achievement for Toyota as it races to recoup lost production and restock diminished inventories. It had hoped to make up ground in 2022, but repeatedly faced setbacks due to the semiconductor crunch, pandemic lockdowns and even natural disasters.

[...]

But Toyota's latest outlook also comes with a big caveat in the form of a downside potential of 10 percent — an acknowledgment of the lingering risk of continuing microchip and pandemic disruptions.

Toyota decided to offer guidance in a range rather than a single target figure. That means the company sees output ranging from around 9.5 million vehicles, under worsening supply constraints, to as high as 10.6 million under a best-case scenario.
Toyota has been transparent when it comes to communicating production targets and revisions. For February, global production is slated to be at 750,000 units. The company has been known to be a bit conservative when it comes to estimates like these.
3rd Gear: Stellantis Van Factory Halted Due for Lack of Parts
Stellantis is halting production at its Atessa van factory in Italy next week because of a parts shortage, according to its union. The stoppage will impact most of the plant's workers, three unions who represent the people who work there said in a statement.
The parts shortage reportedly involves - you guessed it - components used to make microchips among a few other more minor things. From Reuters:
With over 5,000 workers and an annual production capacity of more than 300,000 units, the Atessa plant, in central Italy's Abruzzo region, is the largest van making plant in Europe.

It makes light commercial vehicles under the brands Fiat, Peugeot, Citroen as well as Toyota.
A spokesperson for the automaker said the group has been making operation decisions on a day-to-day, plant-by-plant basis since the start of the Covid pandemic in 2020.
4th Gear: BMW Wants to Speed Up Solid-State Battery Development
BMW is attempting to speed up solid-state battery development by manufacturing prototype cells as part of a new partnership with Solid Power Inc. at its R&D facility in Munich.
The automaker will reportedly begin producing cells in the first half of this year. The end goal is to develop battery cells large enough to test in vehicles before 2025, according to Peter Lamp, BMW's head of battery research and development. From Bloomberg:
Solid Power has development agreements with both BMW and Ford Motor Co., which are also investors. If its technology meets certain performance targets, it could be considered for automotive supply contracts.

Solid Power is one of dozens of companies trying to reach the "holy grail" of battery innovation: a solid-state battery that can deliver longer range, faster charging times, reduced fire risk and lower cost. Automakers and battery companies are betting they can achieve such a breakthrough by the end of the decade, but they still face steep hurdles to prove lab discoveries can be manufactured at scale.
"We have good teams on the Solid Power side, on the BMW side," Lamp told Bloomberg. "If we move forward separately, it's not the same speed as if we join forces."
The company is based in Louisville, Colorado (a real place) and went public via a reserve merger in 2021.
5th Gear: AI Comes to the Auto Loan Industry
Upstart, an auto refinancer and digital auto retail platform, is set to begin expanding its direct out lending business to dealerships around the country.
It'll also allow dealerships using its Upstart Auto Retail platform to let their customers obtain car loans and even complete a purchase entirely online. From Automotive News: 

Right now, only about 30 of Upstart's nearly 800 dealership customers have been able to use Upstart's artificial intelligence-based, highly automated indirect lending system to find loans for their customers. The capability has only been available in-store, not for online retail, according to Alex Rouse, vice president and general manager of Upstart Auto Retail.

[...]

The company's partner lenders capture 24 percent of the loans pitched by dealers, Upstart spokesman Tom Brennan said. For 70 percent of the loans, Upstart was the only lender willing to finance the vehicle buyer, Rouse said.

[...]

Upstart uses AI and more data than in typical credit decisions to dig deeper into a borrower's true risk and to match customers with lenders who believe in its underwriting assessments.

[A spokesperson] said the company's AI has led to approvals of customers incorrectly perceived by the market as too risky and avoidance of loans customers incorrectly perceived as safe. This increased accuracy has led to approval rates rising 43 percent and interest rates falling 43 percent in the company's personal loan business, according to Upstart.

Upstart automates all its credit decisions, according to Upstart CEO Dave Girouard, but it still might need to verify customer information. While AI helps here as well, only about one-third of indirect auto loans are truly automated without any additional customer stip activity, according to Rouse. But he said this proportion could grow, noting that Upstart's personal loans were fully automated 75 percent of the time.
The AI revolution is here, folks, for better or worse. You just gotta hope the computer deems you worthy of a loan.
Reverse: Obama's Inauguration Reminds Us How Terrible the Passage of Time Is
Neutral: I Dunno
Who's to say?
On The Radio: Culture Club - "Karma Chameleon
I hate that goddamn viral marketing flash dance video so much.