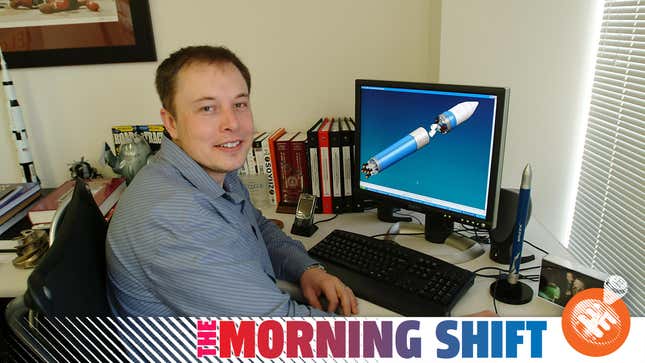 Elon Musk's Tesla trial is beginning, Alpine wants to give the U.S. a shot, and German authorities want Tesla's Berlin plant to rev up those fryers. All that and more in The Morning Shift for Thursday, January 19, 2023.

1st Gear: The 'Funding Secured' Trial Is Underway
Remember back in the day, five whole years ago, when Elon Musk claimed that he had "funding secured" to take Tesla private? Well, Tesla's investors certainly do, and they're suing him over what they allege to be an outright lie. From Reuters:
Tesla Inc (TSLA.O) CEO Elon Musk "lied" when he said that funding was "secured" to take the company private, a lawyer for Tesla investors said on Wednesday, as an attorney for Musk argued that the billionaire merely used the "wrong words" when he tweeted about his plans in 2018.

Tesla investor Glen Littleton is seeking damages on behalf of shareholders who traded the company's stock in the days after Musk posted his plan to take the company private on Twitter in August 2018

Musk's alleged lies caused "regular people" to lose millions, Nicholas Porritt, lead attorney for the investors, told a jury in San Francisco during opening statements.

"Millions of dollars were lost when his lies were exposed," he added.
Legal experts expect the plaintiff's attorneys to pull out all the stops for the trial, using such tactics as "providing evidence" and "getting Musk to testify." Truly innovative stuff. Also from Reuters:

As Elon Musk prepares to take the stand at a trial to determine whether he misled investors about taking Tesla Inc (TSLA.O) private in 2018, the billionaire can expect his tweets, public comments and his thin skin to be used against him, legal experts said.

...

Musk, who is expected to be called as a witness in San Francisco federal court this week, has built a cult-like following for his irreverent humor, marketing skills and vision. But past testimony has also revealed his disdain for probing questions and scorn for opposing lawyers, whom he has insulted as "reprehensible."

In defending Tesla's 2016 acquisition of SolarCity, a solar panel company in which Musk was a major investor, he accused opposing lawyer Randy Baron of being "a bad human being" during questioning about Musk exerting control through intimidation.

"He can be difficult in terms of not answering questions, being evasive and really acting like a schoolyard bully," said Ramzi Abadou, an attorney with Kahn Swick & Foti who represents shareholders but is not involved in the trial.
Lawyers Hate Him! Learn This One Weird Trick (refusing to answer questions and instead insulting the opposing attorney.)
2nd Gear: Al-Pining For America
Alpine, one of Renault's family of brands, isn't exactly the top nameplate Americans think of when it's time to buy a car. But it seems Renault wants to change that, with two electric crossovers targeted specifically at U.S. buyers. From Automotive News:
The U.S. market will be crucial to Alpine's ambitious revenue and sales goals, CEO Laurent Rossi said.

The Renault sports car brand has aspirations to sell two models in the U.S., a midsize electric crossover and a larger, similar model, starting in 2027 or 2028.

"The U.S. is the main destination for these cars," he said on a call with journalists on Wednesday.
I, for one, support American buyers getting access to more weird European brands. Just, please, give us some of the hatchbacks too.
3rd Gear: German Officials Want More Production At Tesla's Berlin Plant
If there's one thing German government officials are traditionally known to love, it's ever-shifting timetables and constant delays. Oh, sorry, they don't love that? My mistake. It seems they want factories under their jurisdiction to quickly and reliably scale up to full force, and to stay there. From Reuters:
Tesla's (TSLA.O) German Gruenheide plant still has some ramping up to do, the economy minister of the state the factory is located in said on Thursday, adding that production should be sped up somewhat to reduce customer waiting times.

"That has to grow up a bit more," Brandenburg's Economy Minister Joerg Steinbach said at a podium discussion organised by German union IG Metall on industrial prospects for eastern Germany.

The electric vehicle maker was recruiting 200 to 300 people a week even as other companies in the region struggled to find talent, the minister added, with the labour force now totalling around 9,000 people.

But the expected delivery of Tesla's basic Model Y to customers in Germany has slipped to February-March, according to the carmaker's website, from January-March prior to a price cut of 17% last week.
The Reuters piece also mentions that workers in the Tesla plant had complained about long hours and weekend work. It seems Tesla will need more than those nine thousand people to truly scale its production.
4th Gear: Hertz Is Getting Into The EV Infrastructure Game
Hertz, recently known for having its renters arrested, apparently wants to change its public image. To do so, it's working with the city of Denver on a new EV initiative: installing electric chargers around the metropolitan area, and upgrading its fleet to include more electric cars. From Automotive News:
Rental car company Hertz Global Holdings has launched the Hertz Electrifies program — an initiative in partnership with U.S. city mayors aimed at streamlining the transition to electric vehicles.

The program consists of "five pillars," according to a statement released Thursday, including bolstering EV fleet numbers and charging infrastructure, education and job creation, expansive economic opportunity, community engagement and city planning analysis.

The role of EVs in the future of transportation is "why Hertz is investing in the largest electric vehicle rental fleet in North America," Hertz CEO Stephen Scherr said in the statement. The fleet includes Tesla, Polestar and General Motors models.

Hertz Electrifies is launching in Denver in partnership with Mayor Michael Hancock, bringing up to 5,200 EV rentals to the city and installing a mix of Level 2 and EV fast-charging stations at Denver International Airport and Hertz locations. The Denver arm of the program is a partnership site with BP Pulse, supporting the installation of public-access EV chargers in neighborhoods in the city.

Ride-share drivers will be able to make use of the program as part of its goal to expand economic opportunities, renting "electric vehicles with flexible contracts," according to the statement.
The bit on rideshare drivers here is the truly concerning part. Will these chargers not be made available to the general public? Will there be rental-only chargers littered around Denver?
5th Gear: VinFast Turns To Discounts To Take On Tesla
VinFast has a ways to go before it can capture the American market. Despite its years of work abroad, its current crop of vehicles isn't up to snuff for our persnickety buyers. Still, it seems VinFast wants to compete anyway — on price. From Reuters:
Vietnam's electric-vehicle (EV) maker VinFast said on Thursday it will launch promotions to protect the market competitiveness of its models, a week after Tesla (TSLA.O) announced aggressive discounting to spur demand.

VinFast, which started operations in 2019, is gearing up to expand in the United States, where it hopes to compete with existing automakers by offering two models, the VF8 and VF9, which have starting prices of $59,000 and $83,000, respectively.

Tesla is offering its basic Model Y at $52,990 in the U.S. market, a reduction from $65,990.

"As a new brand entering the market, when other brands reduce their prices we have to come up with promotions to ensure VinFast's competitiveness," a VinFast spokesperson said in a statement.

"We are considering many promotion programmes and will announce soon."
Without specificity on what those "promotion programmes" are, it's unclear how competitive they'll truly make the VF8 and VF9. I guess we'll have to wait and see how they stack up to Tesla - or, say, Hyundai.
Reverse: Goths Everywhere Rejoice
Neutral: What's Next For Tesla?
Can you imagine the company without Musk? I can, although not for long.
On The Radio: Screaming Females - 'Ripe'