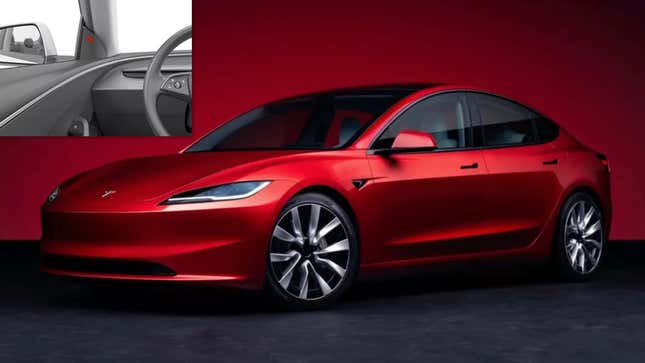 Tesla unveiled its refreshed 2024 Model 3 last week with an updated face and slightly redesigned interior, but the really big news here is that the Model 3 is finally getting something that's been available in much cheaper cars for over a decade now. That's right, you can now get a Model 3 with a blind spot indicator. Woah.

Tesla incorporated the little red/orange light into the upper speaker grilles on the driver door, CarScoops reports. It's a little strange when you consider the fact most cars put those sorts of indicators in the mirror themselves, but what do I know?
Oddly, Electrek reports that the Model 3 owner's manual only specifies the driver door. So far, the only time we've seen this system in action was in this European YouTube video, and it's the driver's door. That means there's a chance that only the driver's side of the vehicle gets a blind spot indicator light. I mean, sure, there's a bigger blind spot on the driver's side of the vehicle, but that's such a weird choice to make.
Anyway, owners will be able to turn on the blind spot indicator from their new Model 3 by touching:
Controls > Lights > Blind Spot Indicator
To be fair to Tesla, this isn't the first time the Austin, Texas-based automaker decided to tackle the issue of blindspots. For years, Teslas used side cameras to display an image of what was next to your car when the turn signal is enabled. It's a similar system to what Kia/Hyundai and Honda have done.
Tesla also sounds a warning chime if you attempt to change lanes while there's a car next to you. Still, all of that is rather complicated, and cameras are known to not be the most reliable thing, so it's probably good to have a little light to remind you not to crash into the guy next to you. On top of that, only having a single screen in the center of the Model 3 means drivers can't look at where they're going and if something is in the blindspot at the same time. It's less than ideal.
Electrek points out that things are a little different in Model S and Model X land. Those visuals are displayed in the driver's gauge cluster, much like Kia and Hyundai.
This is just one of the many changes made to the new Model 3, as the car now comes with ambient lighting and ventilated seats. To make room for such luxuries, Tesla decided to remove the turn signal and gear selector stalks. It's a move that's shitty but does bring the Model 3 in line with its other products.

Right now, we also don't know if Tesla has added any new sensors to the car. Electrek says that likely means it is using the car's Autopilot cameras to detect cars in blind spots. We also don't know if this feature is going to end up in the rest of Tesla's lineup.