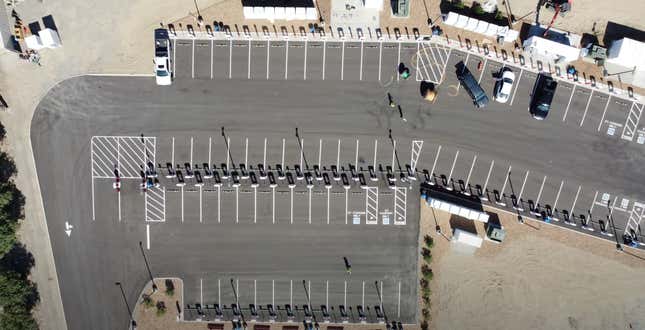 While EVs are all the rage with automakers right now (if not with their customers), their green bona fides have increasingly come into question over the past few years. SF Gate has a reminder that, when it comes to Tesla, pulling back the curtain even a little reveals all sorts of dirty secrets.
The Harris Ranch Supercharger sits at on a beautiful resort-style ranch between San Francisco and Los Angeles and provides good food and plenty of charging spots for folks making the six-hour journey between the two cities. Tesla hails the Harris Ranch site as the largest bank of EV chargers in the world at 98 spots, but one journalist found that the Superchargers are often supplemented by a small diesel plant. From SF Gate:
The Central California charging station is such a big deal that Tesla clubs even make it an appointment destination. Yes, they'll rally-style drive to it just to honor its lineage and size.
 
But as with many Tesla-related things, there is a secret, thinly obscured by an Oz-like curtain, at the Harris Ranch Supercharger. Hidden in plain sight across the way from the Harris Ranch Supercharger's main stations, behind a Shell station, is a small diesel plant that has helped power Tesla's footprint.

The news was first broken by investigative journalist Edward Niedermeyer. In May 2015, Niedermeyer drove from his Oregon home to Harris Ranch to see whether "Musk's latest bit of dream weaving could stand up to reality."

What Niedermeyer reportedly found was a little different from the company's clean energy claims.
 
"I discovered that Tesla's battery swap station was not in fact being made available to owners who regularly drove between California's two largest cities," Niedermeyer wrote in a May 2022 exposé for Slate. "Instead, the company was running diesel generators to power additional Superchargers (the kind that take 30 to 60 minutes to recharge a battery) to handle the holiday rush, their exhaust mingling with the unmistakable smell of bulls—t."
 


The fact that a small diesel plant was helping power the additional chargers kicked off a series of events that unraveled the myth of Elon Musk for Niedermeyer: "Once you stop taking Musk at his word," he wrote, "his heroic popular image evaporates, and a far darker reality begins to reveal itself."

It's unclear just what percentage of Supercharger power at Harris Ranch is being generated via diesel, as even apps devoted to tracking what kind of energy is delivered to Superchargers have no idea. Musk himself promised Superchargers would be entirely solar-fed back in 2017. So far that is definitely not the case.
That being said, at least Tesla has a large network of Superchargers, enough for gaggles of people to make the journey between the two cities during busy holiday driving weekend. It's Tesla's charging supremacy that has almost all other automakers making deals for their cars to use the network, after all. Tesla owners SFGate spoke to admitted their Teslas weren't perfect, but they are much closer to perfect than any other automaker out there today.