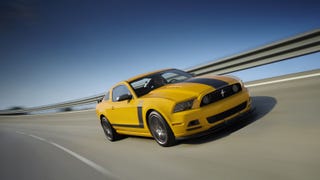 Of all the variants of the Ford Mustang, the Boss 302 is probably our favorite. It's lighter, it's faster, hell, it even looks better.
Last month, we told you how Ford's Trackey setup for the Mustang Boss 302 had been waylaid by California environmental regulators. Suddenly, the skies have cleared, and Ford will announce a release date next month at SEMA.
Ford's Trackey setup for the Mustang Boss 302 promised to unlock the pony car's racing side with special software engaged by a separate key. Yet nearly a year after being announced, Trackey still isn't for sale, thanks to bickering between Ford and California environmental regulators.
A Wisconsin man decided to flex his newly-acquired beer muscles by testing his newly-acquired track-ready Mustang on a local street. He lost control, clobbered a Jeep Grand Cherokee and caromed into a tree. He probably thought he was taking the Zanardi line down the corkscrew.
Shane McGlaun knew he wanted a new Mustang Boss 302 so he ordered one up as soon as they were available. He even paid $1,800 over sticker, against his better judgment. His reward was 2012 Boss 302 #0001. Lucky.
Ford's last upgrades to the Mustang GT back in 2010 gave engineers a platform on which to build the best Mustang ever. So that's exactly what they did. Yes, the Boss really is back and it's epic.
This is Ford's TracKey, a special key available to buyers of the 2012 Mustang Boss 302 that, when used, switches the dual-path powertrain control module (PCM) from streetable pony car to 444 HP track-ready stallion. Yes, the future is now.
Ford's not yet released official production numbers for the new Mustang Boss 302. However, Borders, the bookstore chain, has posted a listing of a new book which might have accidentally slipped the size of Ford's new Boss-man.
The Mustang Boss 302 and Boss 302 Laguna Seca are the latest track-time toys in Ford's lineup and they've showed up to play at the Woodward Dream Cruise. Check out that rear-seat-delete option on the Laguna Seca. Sexy.