Ford's last upgrades to the Mustang GT back in 2010 gave engineers a platform on which to build the best Mustang ever. So that's exactly what they did. Yes, the Boss really is back and it's epic.
Disclaimer: Ford wanted us to drive the Boss 302 and Boss 302 Laguna Seca so badly they flew me to Monterey, stuffed me to the rafters with barbecue and provided track time on a famous race course. I supplied my own notebook and Tazo mint tea.
Turn 2 at Laguna Seca is called the "Andretti Hairpin." It's a thorny, 190-degree bend that looks like a dented letter "C." Some drivers say the fastest way through it is to "diamond" the turn by connecting two straight tangent lines. Others say you should round it off. On my first lap in Ford's 2012 Mustang Boss 302, I take a more unconventional approach: I try and kick it in the spleen.
G/O Media may get a commission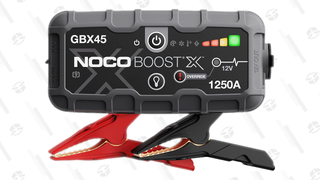 13% Off
Noco Boost X GBX75 Jump Starter
Entering too hot, I overshoot the turn-in point, fling the car toward the second apex, and end up swinging so wide on the exit that, for a moment, I'm counting dirtballs in a field of Monterey silt. But just as I'm factoring the cost of a new set of rims and a front splitter into my writer's salary, the car rotates, the tires hook up, and with a deep braaaaaaaap, accelerates toward turn 3 with the driver smelling like Chanel #5.
It's not as if Ford Motor needed any more ego strokes this year, but the Boss 302 is a very good car. In fact, if there's ever been a factory Mustang that comports itself as well as this car, I will do Werner Herzog one better and eat both of my shoes. Actually, I'm already wrong. There is a factory Mustang better than this car: It's the more track-focused Boss 302 Laguna Seca edition. (I will be accepting shoe recipes by e-mail.)
The Boss Mustang story begins back when Clapton was God, and American road racing was peaking. The SCCA's Trans-American Sedan Championship encompassed the emerging species of pony cars and imported sports sedans. American cars dominated TransAm's top class, first with sedans like the Dodge Dart and later with Boomer bait named Mustang, Camaro, Challenger and Javelin. Think of it: an American racing series, featuring American cars, in which an Indy 500 hot shoe (Parnelli Jones) sparred with an F1 veteran (Dan Gurney) and hall-of-famers in the making (Mark Donohue, Peter Revson), then go find a quiet corner and cry your pretty eyes out for having been born too late.
Ford introduced the first Boss 302 Mustang in 1969 to homologate its 302ci V8 for TransAm racing. The Boss's specs favored equilibrium over brawniness: a small, high-revving V8 and handling kit. (Later, the company would upset the Boss's balance by using the platform to homologate its massive 429ci NASCAR powerplant.) Jones employed the Boss Mustang to bring home the hard-fought 1970 TransAm season for Ford, and the Boss's legend was sealed.
Considering the history, then, a return of the Boss appears to be a perfect "race in 1969, sell in 2011" proposition. But with the 1960s continuing to shrink like a Waffle House sign in our collective rear-view, so-called "heritage" cars must win the kids too. Turn the Boss Mustang into an explicit BMW M3 killer, and you may get Generation Gymkhana interested. Do that and make a direct connection to 1960s glory, and you'll have three generations of car fans circle-drumming together like Sedona hippies inside of an hour.
That's what they did. A noble and unequivocal goal, this, to set dead aim on the BMW M3's Laguna Seca lap time. To the cynical, such goals sound forced and YouTube-inspired, but they keep engineers focused; and focused engineers do good things.
The new Boss 302 follows the original Boss's paradigm, with a reconfiguration of the GT's DOHC 5.0-liter V8 that breathes deeper and revs higher, and ostensibly can take more punishment. Squeezing out more horsepower without resorting to forced induction was the goal, and the result is 440 hp, or 28 more than the GT (torque is down by 10 lb/ft to 380). Atop the Boss V8, enthusiastic engineers fitted a Daytona Prototype style intake box with short runners over a CNC-ported aluminum manifold, then added forged aluminum pistons and aluminum alloy cylinder heads with CNC-machined ports, lightened sodium-filled exhaust valves and race-spec crankshaft. Bore and stroke are the same as the base GT engine, but the young labcoats fitted a new exhaust cam and did a bit of calibrative fiddling with the laptop. The result is a thoroughly modern sport V8 that's as responsive as its German-tuned competitors and gleefully pulls straight through a 7,500 rpm redline. A lovely sound is supplied by a quad exhaust setup with two side outlets. Purists can remove an internal baffle for even more aural pleasure.
Handling wise, the improvements are incremental but effective. The Boss is hands-down the flattest-cornering production Mustang ever built, having been lowered 11mm in the front and 1 mm in the rear, and upfitted from the GT with stiffer bushings, a lower control arm and strut tower brace in the front, and a slightly larger stabilizer bar in the rear. Both cars, the base Boss 302 and the more track-focused Laguna Seca edition, also come with a set of adjustable struts/shocks that allow for variable rebound rates. It's not an electronic system, so you have to get under the hood, or climb into the trunk, to reach the screwdriver-adjustable switches at the front and rear mounting points. Of the five settings on the base-model Boss, 1 is pick-up-grandma-on-Thanksgiving soft, 2 is the stock setting and 5 is track-day firm. That setting is 1 in the Laguna Seca edition, and it gets even stiffer from there. For canyon carving in the base model, I preferred 4 in the front, 3 for a bit of extra dig-in in the back.
There's nothing the engineers could do about the Mustang's solid rear axle, which still causes handling disruptions over rough roads (though it's fine on the track). Actually, there was one thing they could do. They put in a Torsen helical differential. The diff's an option on the base Boss 302, and standard on the Laguna Seca edition, but it's such great piece of kit that bumps the Mustang into a realm of premium handlers. Unlike a limited slip, the helical system uses gears instead of slipper clutches or plates. As the car enters a turn, the helical-cut gears push against each other and slide into engagement. Accelerating out of a turn, the diff prevents spin of the inside wheel, while distributing torque to the outside wheel, which rotates the car through the corner and mitigates push. It goes a long way toward giving the Boss its surprising cornering precision — and it saved my ass on that Andretti corner — so consider the Torsen diff a must-have.
The Laguna Seca edition is around 10 percent stiffer in the chassis, owing to crossbars installed where the back seats once were, higher spring rates, a larger stabilizer bar (the largest in any production Mustang). It also gets an aero package, 19" racing alloys and sticky R-Compound tires. Both the Laguna Seca and the base Boss get the same, uprated four-piston Brembo package with 14" vented discs up front — and GT-spec single-piston, 11.8" discs in the rear. It also gets a gauge package to facilitate track-day heat- and pressure-management duties. Pedal feel is solid, and even after a day of abuse by jetlagged journos, there were brakes to spare at the end of the day.
The Boss 302 also gets three adjustment modes to the Mustang's electronic power assisted steering (EPAS) rack, which affect only turning resistance –- lightest in "comfort" mode, heaviest in "sport." I tended to leave it in the midpoint "standard" mode. The system, whose algorithms do a solid job of mimicking a hydraulic system, is a far cry from past Mustangs in terms of feel. Still, in the Boss I was wishing for a quicker ratio to better manage tight canyon bends.
Indeed, at a base of $41,000 for the Boss 302 and $47,000 for the Laguna Seca edition, these are not stripper Mustangs. But both Bosses reflect a capability bargain right out of the box, if you consider what it might cost to spec-up a Mustang GT for track days — and if all you want to do is show up your neighbor's M3 at the local course. And you can't get that engine unless you buy the whole car. Not yet, anyway.
(Update: The cars we drove on track were all equipped with Ford's new, dealer-installed TracKey feature, which unlocks a different set of ECU calibrations to enhance trackwork (cuts out daily-driving compromises to throttle mapping and torque management), and includes a two-stage launch control. Boss 302 buyers also get a complimentary day of track-driving instruction at Miller Motorsports Park.)
Show us your tips!
Got tips for our editors? Want to anonymously dish some dirt on a competitor? Know something about a secret car? Email us at tips@jalopnik.com.
Looking for our forums?
Click here for the Opposite Lock or Tips forums.
Get more Jalopnik!
Want even more Jalopnik? Want to know which of your friends read us? "Like" us on Facebook and follow us on Twitter.
2012 Ford Mustang 2dr Cpe V6 Specs