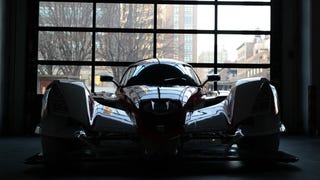 Praga Racing is the latest division of the Praga Manufacturing company, with a somewhat familiar past (to European automakers) of building cars, then motorcycles, then trucks, then buses, then tanks, then airplanes, and now race cars.
State police pulled over some 100 cars and issued over 30 tickets as hundreds of exotics, some doing more than 100 mph, flooded Route 17 near New York's Monticello Motor Club Sunday. Turkey Run? Yes. (H/t to VMA1T!) [RecordOnline]
The Cadillac CTS-V Coupe is a lean, mean, tire-shredding epic hoonage machine. The prodigious clouds of acrid tire smoke in this video, shot on the Monticello Motor Club's tight track? Precisely why we love it.
Despite New York possessing the demographics, infrastructure, history and desire to support a stateside return, Formula 1 announced this week the next U.S. Grand Prix is headed to Texas. Here's how — and why — New York get screwed.
The players are prepping themselves for the Jalopnik Vs GM race today, including Csaba Csere — the independent third party tasked with making sure GM doesn't cheat. We hope those Caddy engineers are telling Lutz to brace for impact.