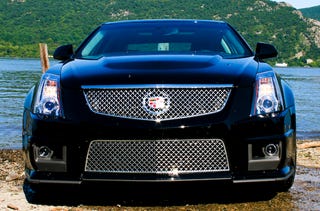 Jalopnik Reviews
All of our test drives in one convenient place.
Only a couple of minutes into the briefing and already things are going bad. "The supercharged engine doesn't trail off up to the 6,200 RPM redline, so on the track, you may find yourself hitting the rev limiter once or twice," says a Cadillac spokesperson, preparing us for our first foray onto the track at Monticello. I'm sheepishly trying to sink further into the leather couch, hoping none of the elderly car journalists sitting around me brings up the fact that, half an hour ago, I was bouncing off the rev-limiter at full throttle in third and fourth gear, passing all of them on the wrong side of a two-lane mountain road. I guess that Cadillac considers the 556 HP, 191 MPH 2009 Cadillac CTS-V so fast that drivers - even professional car reviewers - won't be able to fully exploit its engine on the road. The thing is, they're wrong.
Climbing into the CTS-V in New York's northern suburbs, I was on a high. Just one week previously, I'd spent the day lapping GM's Milford Proving Grounds in the best car ever made, the 2009 Corvette ZR1. The CTS-V promised to be more of the same; it uses a similar 6.2-liter supercharged engine, but here making a not-quite-as-ridiculous 551 lb-ft and 556 HP (to the ZR1's 604 LB-FT and 638 HP). Also present are similar electromagnetically controlled shocks, promising both a smooth ride and, more importantly, mind-bending handling. Those numbers lead to a 0-60 time of just 3.9 seconds, that 191 MPH top speed for the manual transmission version (the only model I drove) and combine with that suspension to deliver a 'Ring time of 7:59.32, making it the fastest production sedan in the world. My ability to restrain my inner demons lasted all the way from White Plains across the Tappan Zee Bridge, a notoriously poorly assembled pile of broken concrete and steel plates that masquerades as the main route over the Hudson north of the city. Cruising down the right lane of the congested highway during rush hour, trying hard to preserve both my license and my life while dicing with trucks and crazy bitches from New Jersey, there's little to indicate the CTS-V's potential. The engine is quiet, the Tremec six-speed is smooth and the dual-plate clutch (similar to the ZR1's) is light. The ride's also seriously impressive; I prefer the controlled-but-firm nature of European performance car suspensions over the soft and squishy nature of most American cars. And the CTS-V satisfies my Euro snobbery not just with its suspension, but in the interior too. In V trim it gains glossy piano-black highlights, supportive and comfy suede Recaros, a suede steering wheel and a suede gear lever. Know how awkward most current BMW interiors are and how cheap most current Mercedes feel? The CTS-V is better. Seriously. I never thought I'd say that about a Cadillac. Of course, all this only remains a factor if you're driving slowly. Shift down a gear, switch the suspension into Sport mode, turn off the traction control and switch Stability to "Competitive mode" and you're ready to drive fast. There aren't many passing opportunities along Route 9 West, but with ridiculous amounts of power and torque everywhere, that rapidly ceases to be a problem. Views of the Hudson over my right shoulder disappear as speed focuses my vision into a tunnel. Driving the CTS-V fast, on the road, you rapidly forget that you're driving a big luxury car. Its movements are precise, yet untroubled by cracked pavement or pot holes. Hit one at speed while cornering and it scarcely upsets the car, never once punting it sideways. That I can say this about a car that will light the rear tires up merely by flooring the throttle in fourth gear is kind of mind-boggling. Later in the day, out on the track, the rev limiter ceases to be an issue. Here, free to concentrate on your own driving instead of others', it's easier to keep the big engine in the middle of its torque curve, which peaks at just 3,800 RPM. The power becomes almost secondary to the cornering, which at high speed is controlled and grippy, while slower corners move the balance over to sideways. Compared to the ZR1, The CTS-V has to carry 836 LB more through the corners on narrower versions of the Michelin PS2s. Prone to initial understeer, it only takes some right foot to step the tail out into a controllable slide, so the experience is somewhat less controlled than driving a ZR1, and a fair bit slower, but equally fun in its own unique way. Cadillac had to order me out of the CTS-V at the end of the day, after four hours of continuous lapping. By now, you've probably guessed that I really, really enjoyed driving the Cadillac CTS-V. It offers a new level of capability for performance sedans on the track, but especially on the road. In both environments it's amazing fast, but also exploitable. Think of it as a ZR1 that you can drive people around in, that looks way classier and that you'll actually be able to push to its limits, and you won't be far off. Cadillac inevitably compares it to cars like the BMW M5 and Mercedes E63 AMG, but starting at "around $60,000" it's considerably cheaper; with a 0-60 time of 3.9 seconds it's considerably faster and it's also considerably more involving. I'd compare it to the more closely priced BMW M3 Sedan, which may have a slight edge on precision, but is also shy 142 HP and 256 lb-ft, while the CTS-V only weighs 474 pounds more. With this car and the ZR1, General Motors now makes two of the fastest, most exciting and just plain best performance cars. Ever. And yes, the 2009 Cadillac CTS-V does epic burnouts, too.