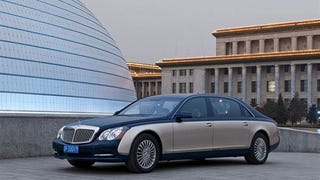 The industry term for an upgraded vehicular design is a "facelift." But the exceptionally minor enhancement to the Maybach 62 is barely a Botox treatment.
There are a few reports about P. Diddy getting his son an $8 million Maybach Exelero for his 16th Birthday. These reports are wrong. He probably just bought him a $342,000 Maybach.
Many cars have been killed because of the Carpocalypse. But we don't think the bloodbath should be over. With the help of Jalopnik readers we've identified nine on death row and one that should be read its last rights.
Last time we chose between the gold bars and Booth Numbah Two, the $15,500 Mercedes-Benz 420SEL grabbed a stunning 90% rating on the Crack-Pipe-O-Meter™. The global economy is taking body blow after body blow, which you'd think would knock the price of high-end used cars down to Prole Territory… but such is not the…
One of our New York City tipsters and regular friend of the site, was minding his own business, strolling down Broadway, when he came across a rather imposing Maybach surrounded by rather imposing bodyguards. Our hero was eventually shooed away by one particularly massive fellow, but not before he confirmed it was the…
There's a record for everything, though not every one gets equal weight among the record watchers. Take, for example, the title of Fastest and Most Exclusive Luxury Sedan. Show up at the Guinness doorstep with that belt, and they'll send you packing along with the guy sporting the world's largest buttocks-region…