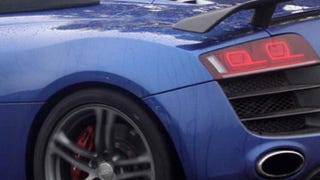 Despite our misgivings about an R8 GT with a removable roof, Audi's going ahead with plans for a 552-hp version of its Spyder. Teamspeed's spies in Germany caught what looks to be a pre-production model in all its wing'd glory.
Remember the Audi R8 GT, the lighter, faster version of the gentleman's supercar? It seems Audi's building one that's nearly the same, only sans top. Sans is French for "nope, doesn't have one."
The Audi R8 GT is essentially a Lamborghini Gallardo LP560 in sexy Audi R8 form. Only 333 will be made, and Audi just announced the U.S. is getting 90 of them for $196,800 per before destination charges/dealer markups.
The Audi R8 GT drops weight, adds power, and oozes sex. It's how they say "good morning" in Detroit... three days a year.
The limited edition Audi R8 GT combines the power of an LP560-4 with the robotic sensuality of an R8. Combine this with an old German dude on fast, wet roads and you get this mess.
This Creamsicle-painted tester caught gassing up at the Nürburgring is supposedly the R8 GT RS, the hard-edged version of Audi's supercar with a stripped interior, bigger brakes, aggressive aerodynamics, bigger side scoops, tighter suspension and apparently 600-hp. Delicious. [AuoExpress]
The Audi R8 GT is a little lighter and a little more powerful than the Audi R8 5.2 FSI it's based on. It's also a lot sexier, something conveniently highlighted by these new photos.
The Audi R8 GT gives Ingolstadt's übercar the 560 HP and 398 lb-ft of torque to match the Lamborghini Gallardo LP560. Its production run of just 333 units — half the mark of the beast — gives it demonic powers!