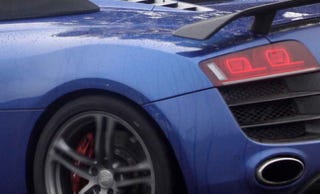 Despite our misgivings about an R8 GT with a removable roof, Audi's going ahead with plans for a 552-hp version of its Spyder. Teamspeed's spies in Germany caught what looks to be a pre-production model in all its wing'd glory.
The question is, can engineers cull the same 220 pounds from the Spyder as the standard V10? It would be an ungodly but welcome act. Other specs should remain the same, including the 552 hp and 398 lb/ft from the 5.2-liter V10, ceramic brakes, manually adjustable coilovers and carbon-backed bucket seats. What about the coupe's 3.6-second 0-60 time? Perhaps.
Misgivings or not, more sub-4 second cars are better than fewer. And by fewer we mean only 333 of the Spyders will likely be built, to match the 333 coupes set for production. That means 666 Audi R8 GTs will be wandering the earth. Kind of a provocative number so close to Judgement Day, is it not? Still, if we make it to June, some say the reveal will be at Le Mans.