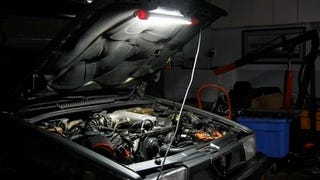 Welcome to Down On The Street, where we admire old vehicles parked on the streets of the Island That Rust Forgot: Alameda, California. We've seen a 164 and two Graduates, but the complete set of 80s Alfas requires a Milano.
We knew the Milano has been a damn good LeMons car, but this good? That's right, the excessively complex, temperamental Reagan Era V6 Alfa absolutely stomps all Toyota products when it comes to LeMons reliability. Of course, when a Milano does break… well, they say that turning 10,000 fasteners over the course of a…
The first session of racing at the New England 24 Hours Of LeMons is done, and we've got a Top 10 composed almost entirely of Civics, Alfa Milanos, and Volvo bricks!
Welcome to Project Car Hell, where you choose your eternity by selecting the project that's the coolest... and the most hellish! Yesterday, we had the chance to choose between two potential moonshine runners, with either of which one might keep bread on the table during the coming Financiapocalypse, and the Mercury…
Can you believe it? Flogging mercilessly on a cheap-ass race car can lead to mechanical woes! According to UDMan: Well, all the entries are still on the track, and we are in hour 4. However, there have been some close calls. Team Pro-Crass-Duh-Nation (an Alfa Romeo) was black flagged because the Battery was on FIRE.…
Are we seeing the start of a new LeMons trend here? Rather than endless BMW E30s, Mazda RX-7s, and Honda CRXs, the Alfa Romeo Milano will become the can't-lose car of choice for LeMons teams? We know there will be at least one at the next LeMons South race, and we're keeping our fingers crossed that someone will…
The racers lining up for the 24 Hours of LeMons New England race today have had time to get their stories straight, so it appears that the BS Inspection went without any monstrous lap penalties. We've got UDMan on the ground in Connecticut, and he'll be sending us more photos of the rod-throwin', head-gasket-blowin',…