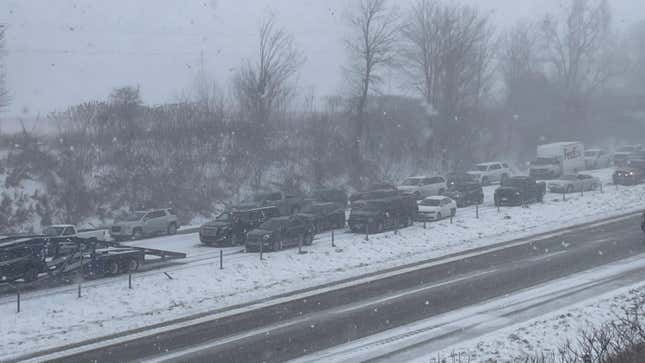 We've definitely covered some big pileups over the years. Just last March, more than 50 cars were involved in a pileup in Pennsylvania, and back in November, Denver had one that involved more than 100 cars. But the latest mess in Michigan really takes the cake, involving a whopping 150 vehicles. The good news is, though, that while a relatively small number of people were injured, no one was killed.
According to Bob: Why SUVs All Sort of Look the Same
In case you missed it:
USA Today reports that the pileup took place on Saturday on I-96 near Portland, Michigan. Whiteout conditions led to a number of crashes that caused the highway to close in both directions for about five hours. According to police, 84 cars were actually damaged in the pileup, while 66 others ran off the road but didn't actually hit any other vehicles. Sixteen people were taken to the hospital for injuries, but none of them were serious.
Weather conditions reportedly got bad fast, cutting visibility and causing a number of cars to hit the barrier dividing the eastbound and westbound lanes. Others that couldn't stop in time ended up rear-ending the cars in front of them. One man also reportedly got out of his car to clear some of the wreckage, allowing some drivers to get out of the pileup. Emergency crews set up a warming and family reunification center at a nearby church and used buses to transport the people who were involved in crashes.
We're definitely glad that no one was seriously injured in the pileup and that emergency crews were able to rescue everyone. This is also a good reminder that even if you're an experienced winter driver, weather conditions can always change, and there's no guarantee that other drivers are paying attention. Stay safe out there, and keep your head on a swivel even as the weather slowly starts to warm up.