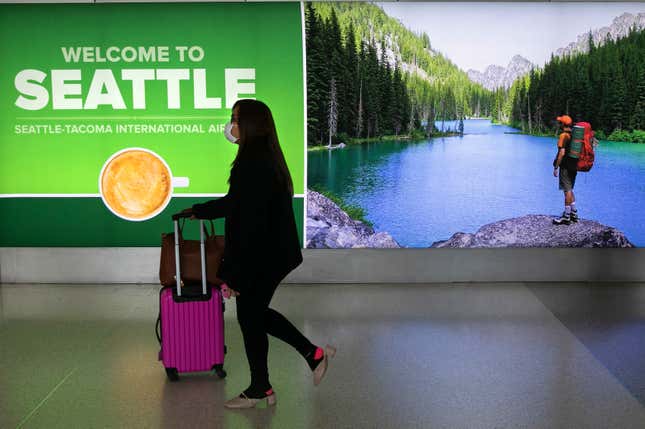 Have you ever tried to put together a piece of Ikea furniture only to find out that you missed a bolt somewhere, and now it's wobbly? And then, instead of taking it apart to fix it, you shove a matchbook under the wonky corner? Ok, now imagine that scenario, but instead of a Billy bookshelf, it's a wildly overbudget terminal at a major international airport, and because of a mistake somewhere along the way, this terminal that was supposed to fit 20 widebody jets simultaneously now only fits 16.
I Think You Should Leave Is Full Of Comedy About Cars
In case you missed it:
That's precisely the situation unfolding at Seattle's Sea-Tac International Airport. It has been experiencing a surge in passengers in the past few years, likely due to the overall increase in the tech sector there. To help make things less crowded and awful, Sea-Tac earmarked $344 million for a new international terminal. That $344 million ended up being closer $968 million to finish the terminal, and because of a flaw in that terminal's design, Sea-Tac isn't even getting what it paid for, according to a report published on Sunday by travel blog One Mile At A Time.
The terminal's design was specifically meant to have some of the 20 gates able to handle Airbus A330s and Boeing 787 Dreamliners, with others able to take the even larger Boeing 777. Unfortunately, the gates designed to fit the 777 are meant to have the jet parked at a more extreme angle to the gate, which nobody seemed to consider would make adjacent gates unusable.
The Port of Seattle, which controls Sea-Tac, claims that this capacity shortfall could cost tens of millions of dollars and not even fix the international flight problem that this terminal – which opened last year – was supposed to help with in the first place. Needless to say, the Port of Seattle is pissed, especially as estimates place the cost of fixing the issues with the terminal at $78 million, which, given the nature of this project to this point, is likely not to be the final tally.
But wait, the plot thickens. Clark Construction, which built the terminal, sued the Port of Seattle for $60 million, claiming that it had yet to be paid for extra work created by design changes and because of cost overages resulting from pandemic shortages. The Port of Seattle clearly isn't having any of that because it countersued Clark Construction in January for $100 million to cover the cost of the fixes for the wonky gates.
This issue will likely continue in legal hell until the current King County Superior Court date set for December of 2023 comes a-knockin'.
Port of Seattle declined to comment on the ongoing legal proceedings and Clark Construction hasn't responded to our request for comment as of publication.
Updated: 8:17 p.m. ET