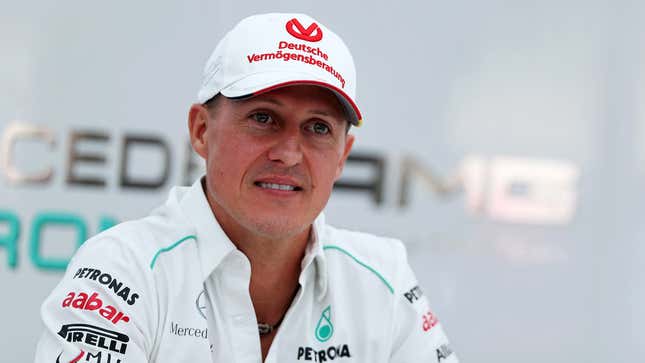 The cover of last Saturday's edition of German tabloid Die Aktuelle advertised "the first interview" with seven-time Formula 1 champion Michael Schumacher, who has spent the last decade recovering from a traumatic brain injury he suffered while skiing. Schumacher's quotes in the "interview" were actually supplied by an AI chatbot, which Die Aktuelle revealed at the end of the piece. The racing legend's family intends to take legal action in response, multiple outlets reported Thursday.

This NYC Garage Takes Vanlife To The Next Level | Jalopnik Visits
In case you missed it:
A representative for the Schumacher family "pointed to published reports of legal action" when asked for comment by Reuters. Additionally, ESPN says it confirmed as much with a spokesperson.
The article begins promising "no meagre, nebulous half-sentences from friends. But answers from him! By Michael Schumacher, 54!" according to the Daily Mail. The cover (seen here via Google Translate) plays coy with the truth, describing the interview as "deceptively real" without making its nature clear.
One of the responses generated by Character.ai and featured in the piece reads that Schumacher is "much better than years ago. With the help of my team, I can even stand on my own again and even walk a few steps slowly."
At the fake interview's conclusion, Die Aktuelle goes so far as to theorize that Schumacher may have even trained Character.ai personally "from the hospital bed," which is as grossly insensitive as it is demonstrative of a total lack of understanding of how AI models are built at all.
This is far from the first time Die Aktuelle has crafted spurious or ill-natured stories since the accident, as ESPN explains:
In 2014, the magazine posted a picture of Michael and wife Corinna on the front cover, with the headline "Awake", only for the piece in question to have been about people who have awoken from comas in the past.

The magazine also won a legal case against the Schumachers the next year after a front cover saying "a new love" had entered Corinna's life, only for the article to be about the couple's daughter, Gina.
Schumacher's family has kept his condition private over the last 10 years, only offering a glimpse into the effect the 54-year-old's condition has had on their lives in a 2021 Netflix documentary.
In 2016, a lawyer representing the driver rebuked claims from another German publication saying Schumacher was able to walk, while in 2019, ex-Scuderia Ferrari team principal and FIA president Jean Todt told Radio Monte-Carlo that the former driver was making "good progress" but "struggles to communicate."