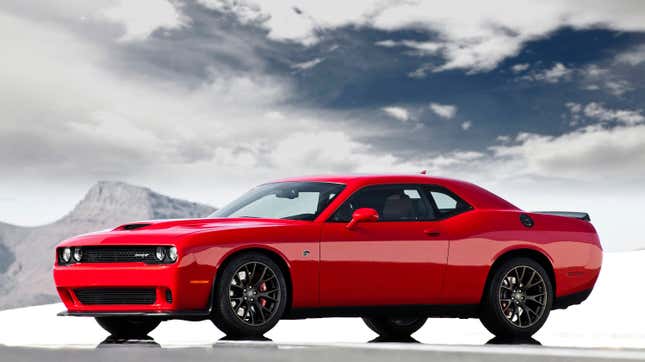 Craigslist can be a sketchy place to buy anything, especially big ticket items like cars. Typical rule of thumb is if you see something listed with a price that's too good to be true, it likely is and you should avoid it at all costs. But, unfortunately, some people let the excitement take hold and all rationality goes out the window. They learn a hard lesson and literally pay the price. One man saw a Dodge Challenger Hellcat listed on Craigslist for $28,000 and had a thought it might be too good to be true. Turns out, it very much was.
In case you missed it:
As reported by The Drive, Los Angeles resident Don Le thought he found the deal of the century when he came across the 2016 Dodge Challenger Hellcat, with an asking price of $28,000. He quickly messaged the seller to set up a time to see the car. They met, he saw the Hellcat, loved it, and made a deal — managing to talk the guy down to $26,000.
Prior to the exchange, the individual that was behind this Challenger Hellcat sale had actually rented the vehicle from Driv3 Rentals. The scammer had called the rental place claiming to have lost the first key, and needed another one. He was denied the other key, and coincidentally claimed to have found the other one shortly after. Driv3, suspected something was up, and utilized the GPS tracker installed in the vehicle to find its location, and were led to it's "new" owner, Le.
The rental agency was thoroughly surprised to find a totally different-looking Hellcat than the one that had been rented out. It was not disclosed how long the original renter had the car, but it was long enough that he was able to rubber dip the wheels, place horrible Hellcat decals on both rear fenders and paint both the trunk and roof black.

Ultimately, Le had been severely duped. For one — and we've all likely said this in our minds while reading this story — Le should have known something was up when he found a Hellcat that cheap. With the end of the Charger and Challenger near, and sprinkle in a little inflation, if you found a Hellcat in that price range, it would more likely look like this.
Le missed all the very large red flags that one should look for when purchasing a vehicle, especially off of Craigslist. The title, was fake, and had the wrong VIN number on it with multiple misspelled words; the bill of sale was a simple handwritten note. Oh, and Le also bought the seller's sob story used to explain why the car was so cheap, saying he was recently divorced and needed some quick cash to get away from his ex wife.

The thief managed to get away with Le's money, which wasn't all his either. He had used funds form his savings, and the rest from his friends. Ouch.
While we feel for the guy, a little, we also see this as a very expensive reminder as to why you, the consumer, need to be vigilant when it comes to purchasing (or selling) cars anywhere. From dealers to Facebook Marketplace and Craigslist, there's always a chance someone will try and pull a fast one on you. If you're still tempted, do your due diligence, bring a trusted friend, and look over everything. But the biggest lesson of all is again, if a deal looks too good to be true, it likely is, and your best move is to continue your search. Or you could lose $26,000.