We at Jalopnik get alerted to a lot of Craigslist ads. It makes sense: Craigslist is one of the very best mediums for buying or selling a used vehicle, if you know what you're doing. But one ad we were sent this weekend makes a lot of rookie mistakes, and I feel like we could all use it as an example of what not to do.
The ad is for a 2007 Ford F-150 Lariat Crew Cab 4x4, and it's for sale in Honolulu. Not a bad used truck purchase at all. But let's take a look at the description in that ad:
ALL THE GLORY HONOR PRAISES MY WORSHIP TO JESUS THE SON OF GOD HIS LOVE DIED FOR OUR SINS SHED HIS PRECIOUS BLOOD JESUS LAMB GOD NAILED OUR SINS HIS BODY HAVING DISARMED EVIL POWERS PRINCIPALITIES MADE IT PUBLIC SPECTACLE JESUS ROSE AGAIN ON THIRD DAY JESUS IS LORD HE OVERCOME THE WORLD HE IS RISEN, PRECIOUS BLOOD JESUS LAMB GOD PRESENCE GOD JESUS FIRE HOLY SPIRIT POWER LIVING WORD OF GOD, IN JESUS CHRIST BREAK ALL USA TAKE OVER BY WHITE MAN KUNKLE BIG LIES BIG MOUTHS HAWAIIAN ISLANDS CURSE ALL EVIL TOO BLUE BOOK WHITE MAN LIES I RENOUNCE CAST OUT INTO PIT OF HELL MAGGOTS COVER THE DEVIL AND BLOOD JESUS LAMB GOD AGAINST ALL EVIL SHUT UP NOT USE WHITE MAN USA AUTHORITY BUT BLOOD JESUS LAMB GOD JESUS THE SON OF GOD RULE POWER AUTHORITY AND BRUISED UNDER SEED OF ABRAHAM MY MY FAMILIES LEST BRETHREN OF THE LORD FEET NOW BY MY GOD JESUS GREAT AWESOME AMEN
And here it is for posterity:
G/O Media may get a commission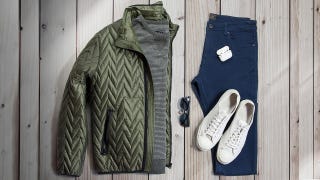 60% off
Jachs NY Fall Sale 60% Off
Yikes! This seller makes a lot of rookie mistakes here that make me wonder if they're really serious about selling that F-150.
Here's some things they really should have done instead, and that you should do next time you're trying to sell a vehicle:
Take good, clear photos of the car. People want to know what they're potentially buying. In general, the more photos you can list, the better. Take the car out on a nice day (if it's not stuck in a garage), take a bunch of photos from different angles, and make sure to snap the engine bay and interior as much as you can.
Taking tons of photos shows that you took time and care to make this ad, and hopefully it tells a potential buyer that the same level of care went into the vehicle.
List as many details as possible. From this ad we know the year and model of the truck, and we know the title's clean, but that's it. Not great! I personally despise ads where the only description you get is "MIATA RUNS GOOD NO LOW BALLERS I KNOW WHAT I HAVE" when I'm after some clear, concrete, useful information about the car.

In your listing, go in depth about the car. List the mileage, be clear about what transmission it has, describe any special features or aftermarket equipment and tell the prospective buyer how it drives. As with the photos, quantity and quality are key.
Being very detailed is often the difference between a quick sale at the price you want or your car hanging out on Craigslist with no bites for weeks—or months.
Be open and honest about what's good—and what isn't. Look, no used car is perfect. But on Craigslist or another classified service, you run a stronger chance of getting closer to a price you want than you would at a dealership, which is all but certain to low-ball you.
Part of that means being as honest as you can with a prospective buyer about what's great on the car, and what needs work. Is anything broken? Will it pass inspection? Is it road legal currently? Will it need any immediate fixes right out of the gate? How fixable are those problems? Is this a project car, a candidate for restoration or a daily driver? These are things your buyer will want to know.
Proofread! Listen, I know better than most that typos and mistakes are an unfortunate part of the writing process, but with some care they can be avoided or fixed entirely. You don't have to write a novel for the ages on Craigslist, but avoid the all caps and try to have it be as readable as possible. Ask a friend to check it over before you post it. Again, you're trying to sell a car here. So sell it.
So don't be like Jesus Blood guy up here. Put some time and care and effort into your ad and you shouldn't have any trouble finding it a new home.
What are your best tips for selling a car online?
Hat tip to Corey!