Likely in an attempt to distract from their trash racing and lack of passing, both the Russian Grand Prix and Monaco Grand Prix plan to have grid girls this year despite Formula One deciding it wouldn't use them anymore. The deputy Prime Minister of Russia justified it by saying Russia's "girls are the most beautiful."

Can we just go, like, a week without a bunch of men in power talking about the
"pretty" and "beautiful" "girls" they want back on the racing grid? Or trying to compare the looks of their country's women with women from other countries?
Reports about grid girls at both races came out this week, just about two months after F1's decision to stop having them at races this season. Sean Bratches, the managing director of commercial operations at F1, said at the time the "custom does not resonate with [F1's] brand values and clearly is at odds with modern day societal norms" and that F1 doesn't believe the practice is "appropriate or relevant to Formula 1 and its fans, old and new, across the world."
Russia and Monaco don't think so.
In an Associated Press report, Russian Deputy Prime Minister Dmitry Kozak, who oversees the Russian Grand Prix that had a grand total of one overtaking last year, said he wants to bring back the archaic and backward-stepping practice of having "beautiful girls" on the grid for the race this year. A lot of drivers on the all-male F1 grid will surely be happy, as they haven't been quiet about how much they need the "eye candy" and to be mildly aroused in order to race cars.
G/O Media may get a commission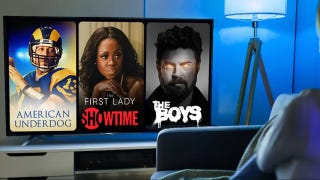 UNDER $1
99¢ Prime Video Channels
Organizers at the Russian Grand Prix are apparently working on a deal with F1 to make bring grid girls back for their race, according to the AP:
"If we can reach an agreement we will revive this tradition," Kozak said in comments reported by Russia news agency Interfax. "Moreover, our girls are the most beautiful."
Kozak also wasn't a fan of F1 replacing its grid girls with grid kids, children F1 said would be chosen from their local motorsport clubs to accompany drivers on the grid. Their families would get paddock passes for the races as well, F1 said.
Here's what Kozak told the AP:
Kozak disagreed with the switch, saying, "It's wrong at races to lead out children, who are frightened of mechanical things. You need grownups. In all kinds of motorsport, girls advertise the cars and it looks harmonious and pretty."
(These children are chosen by their local motorsport clubs, where they race mechanical things as a hobby? Anyway...)
Monaco, meanwhile, apparently doesn't need to reach any more agreements at this point, as it seems to be a done deal there. Automobile Club de Monaco president Michel Boeri said that grid girls would be at the Monaco Grand Prix as the result of a deal, as quoted from F1i.com and picked up by Forbes.
Here's what he said, translated from French by Forbes:
"We've had no problems with Liberty Media, except for the grid-girl issue," said Boeri. "They're pretty, and the cameras will be on them once again."

[...]

"Our American friends assume that it could hurt the feminine feelings when employing young women to carry signs," Boeri told Monaco-Matine, a local newspaper. "Our hostesses complete model and PR schools. They perform during the Grand Prix at events that are in line with their training. And they are paid for it."
Jalopnik has reached out to the Automobile Club de Monaco to confirm Boeri's statements and that the Monaco Grand Prix made a deal to have grid girls, and to ask who all was involved in the deal. We'll update this story if we hear back.
Until then, welcome to 2018, where the male organizers in charge of worldwide auto races seem to forget that it is in fact 2018 and women probably shouldn't be used to decorate a sport where women already struggle to be taken seriously.