Formula One's use of grid girls is still "under review," but instead of deciding whether to axe the concept altogether, F1 will try to make grid girls "more relevant" to competition. This weak and complacent move was, of course, going to happen the whole time. It was silly of us to think otherwise.

It's been just over a month since F1's managing director of motorsports, Ross Brawn, acknowledged that some people think grid girls have "become a bit dated." He was right, and in an industry where women have to deal with enough dated ideals and sexism, it was a realization that could've made a big impact.
But the head of global sponsorship and commercial partnerships at F1, Murray Barnett, told Marketing Week last week that instead of getting rid of the dated concept overall, F1 now wants to make it less dated:
Barnett insists F1 is reviewing the use of grid girls, but he won't commit to axing them altogether despite mounting pressure to do just that.

"We're 100% committed to looking into grid girls and making them a more relevant part of the competition rather than just holding a board and standing next to a car," he says.

"We want to make them fully integrated into the programme and change the perception of what their involvement in the sport is. We haven't quite cracked what this will look like, but we've recognised we need to become more progressive there."
G/O Media may get a commission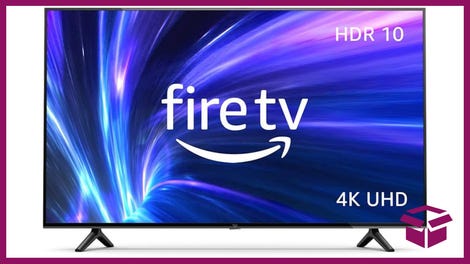 42% Off
Amazon Fire TV 50" 4K Smart TV
We should have known that F1 wouldn't actually do anything when F1's governing body appointed a woman who thinks women can't compete with men to its international women's commission. We should have known when drivers responded to Brawn's comments about grid girls by saying F1 shouldn't get rid of the "eye candy" on the grid, and we should have known when male team bosses defended the concept.
Barnett told Marketing Week that while F1 has "a lot of women" in management positions—women who could weigh in on this kind of stuff—there's still "a lot of room to grow."
The first part of that growing process is dismantling the formal sexism in the sport, like grid girls lining an all-male racing grid, but F1 isn't going to do that. F1 is full of male drivers, crew members and management. It's a sport where a former driver and central figure to the race broadcasts will say, on the record, that women are inferior racers because of "mothering DNA."
F1 CEO Chase Carey's comments about potentially removing grid girls were published in the BBC on Dec. 14 of last year, to which we gave a deep, relieved sigh of "Finally, they're getting it." At the time, Carey said F1 needed to "get as many points of view as possible [about grid girls] and make a decision right for the future of the sport."
On the day that news came out, Jalopnik reached out to F1 and asked if there was a way for casual fans and those not officially involved in the sport to share their opinions with the series. F1 never responded.
We should have known this wouldn't lead to anything—not only when F1 and the men participating in it let all of the other opportunities to improve the situation slip by (and in fact made things worse, most of the time), but also when the series said it wanted opinions and made no effort to get them outside of the usual male-dominated F1 echo chamber, even when explicitly asked.