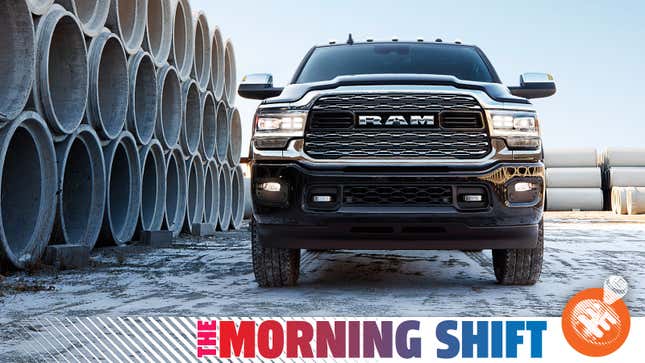 Ram's got a very huge, very familiar recall on its hands, Senator Marco Rubio has questions about Ford's battery deal with CATL, and Tesla has claimed the U.S. luxury crown — for those that consider Tesla "luxury," anyway. All that and more in The Morning Shift for Thursday, February 16, 2023.

The Ram From 'Twister' Is the Greatest Truck Ever
1st Gear: The 6.7-Liter Cummins Continues to Be a Problem
It wasn't very long ago that Stellantis issued a recall for 280,000 newer Ram Heavy Duty trucks — the 2500 and 3500 series equipped with the 6.7-liter Cummins turbodiesel — for a risk of fire stemming from defective transmissions. A "buildup of pressure and heat" would result in a fluid leak, which was supposedly the cause of a fire.
Three months later, these same Rams have another recall, and once again it's been linked to engine fires. The culprit is the heater-grid relay, per Automotive News, covering some 340,000 vehicles total between model years 2021 and 2023, including cab chassis variants:
The recall covers certain 2021-23 Ram 2500 and 3500 pickups and 3500, 4500, 5500 cab chassis trucks that are equipped with 6.7-liter Cummins diesel engines and prior-generation heater-grid relays, which were the focus of two previous recall campaigns.

FCA US, Stellantis' U.S. unit, said it discovered the intake heater-grid relays on certain vehicles may demonstrate overheating. "In rare instances, this condition may pose a fire risk," according to a company news release issued Wednesday.

The recall affects an estimated 306,165 vehicles in the U.S., 21,988 in Canada and 12,590 in markets outside of North America.

Of the six vehicle fires, Stellantis said five occurred while the engines were still on. The automaker said it was unaware of any related injuries or accidents.

To fix the issue, Stellantis said it will replace an electrical connector.
As always, you can check the National Highway Traffic Safety Administration website to determine if your Ram is affected. While you wait for your replacement relay to come in, maybe don't park your truck indoors.
2nd Gear: Ford, CATL and Marco Rubio
Ford is planning to drop $3.5 billion on a battery-making facility in Marshall, Michigan using technology from CATL, a Chinese company. As part of the agreement, CATL will license the production process to Ford, but Ford will own the entire plant and employ all of the workers. Nevertheless, Florida Senator Marco Rubio is skeptical of the contract, so he wants the Committee on Foreign Investment to review it. From Reuters:
Rubio said the deal "will only deepen U.S. reliance on the Chinese Communist Party for battery tech, and is likely designed to make the factory eligible for Inflation Reduction Act (IRA) tax credits," in a statement posted on his website.


The $430 billion IRA imposes restrictions on battery sourcing and is designed to wean the United States off the Chinese supply chain for electric vehicles (EVs). The IRA will eventually bar credits if any EV battery components were manufactured by a "foreign entity of concern," in a provision aimed at China.

CFIUS is a U.S. Treasury-led interagency panel that reviews proposed transactions to ensure they do not harm national security.

Treasury declined to comment, but Granholm said on Twitter on Monday that "bringing advanced manufacturing capabilities from overseas to the United States is key to our competitiveness, will stimulate our economy, and create good-paying American jobs."
Though it pains me to commit the next few words to the immortality of the internet, Senator Rubio is probably right. Ford wants tax credits for its EVs sold here, so it can't import the batteries from China. It needs to set up a U.S. base of manufacturing, while using free-trade materials, to qualify.
But of course there's a reason why CATL's name keeps showing up in these discussions. The company is the biggest producer of automotive lithium-ion batteries in the world, and has pretty advanced tech at its disposal. Ford and its rivals want that tech, and do whatever it takes to get it in their products. They don't care where it comes from. But as long as we're discussing Ford's motivations, it's probably relevant to point out that OpenSecrets has Rubio placed 20th on a list of members of Congress who received the most donations from the oil and gas sector in 2022.
3rd Gear: Tesla's First
In luxury, according to data from Experian, by way of Automotive News. The EV maker was confirmed to have passed BMW in new registrations in the U.S. in 2022 by some 160,000 vehicles, as luxury brands besides Tesla tended to slump in sales last year.
Among all luxury players and regardless of fuel type, Tesla had 484,351 new vehicle registrations, for a 41 percent increase over 2021, Experian data shows. BMW had 327,929 new registrations, a 5.3-percent drop, and Mercedes-Benz had 269,511 — nearly identical to its 2021 number.

Because Tesla does not break out its U.S. sales results, new vehicle registration data serves as the closest thing to an apples-to-apples market comparison. Previous 2022 estimates had suggested Tesla had won the sales crown, but the Experian data provides greater detail of the gulf between Tesla and its legacy rivals.

Total new vehicle registrations among 15 luxury brands fell 3.5 percent in the U.S. last year to 2.18 million, the data showed. Excluding Tesla, luxury registrations slumped 11 percent.

Tesla's results represent the first time it has topped the luxury segment, and it did so without the benefit of any gasoline-engine products. Its German, Asian and American rivals are far behind in EV adoption, with BMW tallying 14,159 new EV registrations last year and Mercedes-Benz totaling 11,444, Experian said.
Electric cars still comprised less than 6 percent of the sales market in 2022, so for Tesla to outrank all those "legacy" luxury marques — which sell both internal-combustion and EV models — is quite impressive. In terms of overall registrations, Lexus and Acura suffered among the biggest drops in the segment, with losses of 16 and 36 percent, respectively. On the flip side, Cadillac enjoyed a 6.5-percent bump in new registrations.
4th Gear: Speaking of EV Market Share
756,534 EVs found homes in 2022, for 5.6 percent of the market, per Experian. That's 57 percent more EVs than were sold in 2021. You already know Tesla was number one — it claimed 484,351 of the total — so here's how the rest fared, once again from Automotive News:
Ford was the No. 2 EV brand with a 7.5 percent market share. Chevrolet, with its budget-priced Bolt hatchback, captured 4.8 percent. Hyundai Motor Group brands followed, Kia with 3.8 percent and Hyundai with 3.5 percent. Audi did best among traditional luxury brands with 2.1 percent, the Experian data showed.

While legacy automakers and EV startups such as Rivian brought compelling products to the fight, Tesla has proven a difficult rival to dislodge from atop the charts. Among the top-five most popular EVs last year, Tesla had four, with its Model 3, Y, S and X. Ford's Mustang Mach-E was No. 3. [...]

Newly launched EVs for 2022 were expected to create greater competition in the market, but they got off to a slow start. Ford's Lightning pickup had 12,804 registrations for the year, BMW's iX crossover had 5,245, the Audi Q4 E-tron had 2,758, Toyota's bZ4X had 1,067 and the Cadillac Lyriq had 157.
It'll be interesting to see if and to what extent Tesla's dominance is eroded as a number of new battery-electric models ramp up in 2023.
5th Gear: Cadillac Will Add Three EVs in 2024
Before 2023 is out, we should learn about three more electric models in Cadillac's lineup that will enter production next year and join the Lyriq and Celestiq, according to Automotive News:
Rory Harvey, vice president of global Cadillac, declined to share specific details about the vehicles or their segments during a briefing with reporters. He said they would be manufactured in "multiple locations" but did not say where.

The additions would give Cadillac at least five EVs going into 2025, including the Lyriq midsize crossover that went on sale in 2022 and the Celestiq, a $300,000 hand-built fastback sedan scheduled to begin production in December.

Automotive News has reported that electric versions of the Escalade and Escalade ESV — to be called the IQ and IQL — are expected in 2024 and 2025 and a compact and a large electric crossover should launch in 2024. Cadillac generally does not comment on future products.

The brand aims to transition to an all-electric lineup in North America by 2030.
I was really hoping they'd come to their senses about "Escalade IQ" but Cadillac's demonstrated a remarkable commitment to the bit.
Reverse: 'Veritable Babe,' Jeff Gordon
That's apparently a quote from NASCAR, by the way. It was on this day in 1997 — 26 years ago — that Jeff Gordon won his first Daytona 500 at the age of 25. From 365 Days of Motoring:
Twenty-five-year-old Jeff Gordon claimed his first Daytona 500 victory, becoming the youngest winner in the history of the 200-lap, 500-mile National Association for Stock Car Auto Racing (NASCAR) event, dubbed the "Super Bowl of stock car racing." Driving his No. 24 Chevrolet Monte Carlo for the Hendrick Motorsports racing team, Gordon recorded an average speed of 148.295 mph and took home prize money of more than $377,000. According to NASCAR.com, Gordon was "a veritable babe in a field that included 27 drivers older than 35, 16 at least 40." Gordon's Hendrick teammates Terry Labonte and Ricky Craven finished the race second and third, respectively.
Neutral: Now This Is a Rétromobile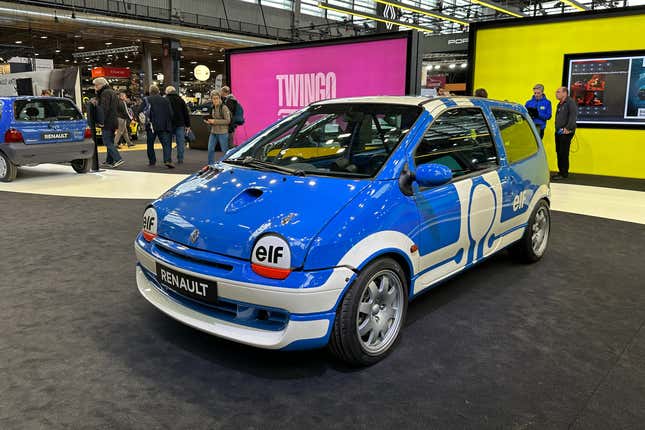 If you haven't seen Daniel Golson's findings from Salon Rétromobile, it'll give you a sudden urge to plan a jaunt in France for this time next year. I need this Twingo Coupe Concept in my life. Speaking of which, did you know the Twingo was pretty much the inspiration for the Clio V6 Renault Sport?