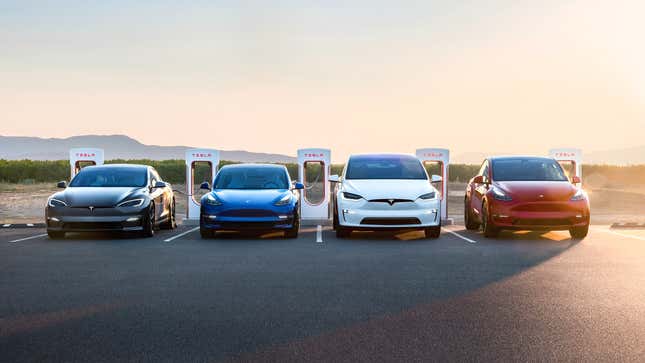 2022 may not have been the best year ever for Tesla. Vehicle demand began to stagnate globally, supply chain issues were abundant and the automaker's stock tumbled over 60 percent. But not all is lost for the Austin, TX-based company. A new report shows that Tesla has just dethroned BMW as the U.S. luxury sales king — a distinction the German brand held for the past three years. It's also the first time in nearly 25 years that an American brand led American luxury sales.
Tesla's Big Discounts Worked, Sort Of
Tesla didn't just beat BMW. It put on a Georgia vs. TCU in the College Football Playoff Championship drubbing of its rival. Tesla sold 158,612 more vehicles than BMW did in 2022, according to Automotive News's Research & Data Center. It's a big come up from being down 23,244 vehicles to BMW in 2021.
So, all in all, Tesla sold an estimated 491,000 vehicles in 2022. That was followed by BMW at 332,388 vehicles. After that was Mercedes-Benz with 286,764 vehicles, Lexus with 285,704 vehicles, Audi with 186,875 vehicles, Cadillac with 134,726 vehicles, Acura with 102,306, and rounding out the top eight was Volvo with 102,038 vehicles sold.
Overall, luxury vehicle sales dipped in 2022, and the broader market also declined about eight percent, according to the outlet.
That 491,000 vehicles sold by Tesla represents a 44 percent increase in sales over the year before. AutoNews also reports that the automaker crossed 1 million deliveries globally.
An analyst for J.D. Power says that the paradigm has shifted in favor of electric cars in the luxury segment.
"Not only do luxury buyers want EVs, but the one that only sells EV is now the sales leader," Tyson Jominy told Automotive News. "If you want to be at the top of the luxury segment, you've got to beat Tesla, and you've got to do it with EVs.