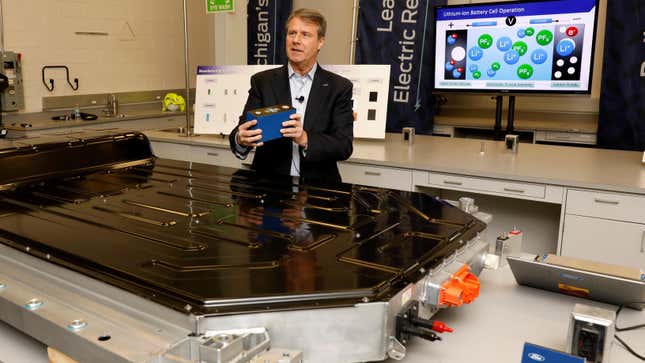 Ford said Monday that it would spend $3.5 billion on a new battery plant in Marshall, Michigan, to manufacture nickel cobalt manganese batteries — what Ford uses on its EVs currently — in addition to lithium iron phosphate batteries, which are cheaper and made with more widely available materials compared to other ones. Ford says it's the first automaker to "commit" to building a plant for both in the U.S.
The official news comes days after it had been reported, and is surely positively great news for Marshall, where Ford said the battery plant — set to start production in 2026 — will result in 2,500 new jobs. Ford says it will call the plant BlueOval Battery Park Michigan, part of its plan to deliver two million EVs on an annual basis by the end of 2026.
Ford says the new lithium batteries — at first imported from CATL, then built at the plant — will be available in Mustang Mach-E later this year, and in F-150 Lightning next year. And while Ford will make the lithium batteries themselves when the plant is online, it will do so after a new agreement with CATL to use their tech, with Ford wholly-owning the plant.
Ford will eventually offer both lithium and nickel batteries in its EVs, and the one you choose might end up being a function of where you live. Ford says that lithium batteries are not only cheaper but last longer, while nickel batteries make more energy and power, and are more reliable in cold weather.
Why Michigan? And why the U.S., as opposed to importing lithium batteries, as Tesla does and as Volvo, VW, and Stellantis seem to plan to do? Well, according to Automotive News, the Inflation Reduction Act played a part, as did the governor of Virginia.
Ford chose Michigan after Virginia's governor, Republican Glenn Youngkin, removed his state from consideration, saying Ford's partnership with CATL would serve as a "Trojan horse" for China into the U.S., helping the Far East bolster its EV battery dominance and spread its influence. Ford executives on Monday said they are aware of potential political pitfalls, but that the contract is set up to give the automaker control of the plant's operations.

[...]

[Lisa Drake, Ford's vice president of EV industrialization] said the company also considered sites in Canada and Mexico but picked the U.S. after the Biden administration signed the Inflation Reduction Act, which includes tax credits for localizing battery production.

"The IRA was incredibly important for us," Drake said. "And frankly, it did what it's intended to do."
The jobs will also be union, as long as a majority of workers sign cards in support.
"Ford got it right by building this plant right here in Michigan," UAW President Ray Curry said in a statement. "We supported the public investment into this facility as we know it will create good paying union jobs that will benefit the community and maintain strong wage and benefit standards in the auto industry."