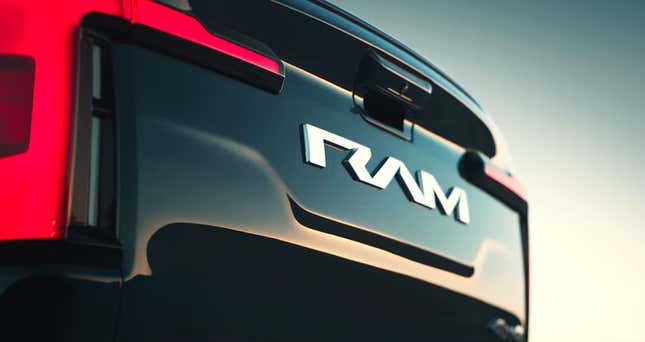 If you were putting off registering as a Ram 1500 REV Insider+ to get a chance to get in line for some of the first Ram 1500 REVs, I've got some bad news for you: As of Friday the $100 sign-up — which doesn't even guarantee a place in line to buy the electric pickup — is completely sold out.

(Updated Friday, February 17, 3:05 p.m. EST - This post originally failed to cite Ram1500RevolutionForum as the original source of the Ram 1500 REV news. We sincerely apologize for the oversight. Ram confirmed to Jalopnik that all of the $100 Ram 1500 REV Insider+ slots are now sold out, and declined to give any more information on number of reservations sold or if they'll open again any time soon.)
Ram opened registration for its answer to the Ford Lighting and Rivian RT1 on to certain customers on February 9 and flushed out a few more details — such as what the whole truck looks like — in a mildly ridiculous Super Bowl ad on February 12.

Ram originally gave interested customers until March 1 to sign up for the limited number of spots, but apparently fans didn't need all that time. Folks who managed to snag the $100 title of Ram 1500 REV Insider+ bought themselves "...a chance to reserve a place in line for pre-order and exclusive access to events, news, and information about the Ram 1500 REV," according to Ram. The $100 is totally refundable if customers change their minds.
You can still sign up to get e-mail alerts from Ram regarding upcoming REV news, but the Ram 1500 REV Insider+ accounts appear sold out for the immediate future.
We still don't know much about the truck, except for what we can briefly glimpse in a commercial which spends a lot of time on a middle school-level penis joke and not a whole lot on the vehicle itself.

Other than that we know it's a truck, it's electric and it's definitely a Ram. For some loyal customers, it seems, that's enough. The truck comes two years after similar products from competitors hit the market, a fact which Ram isn't defensive about this fact at all. From the website:
While some wanted to be the first to deliver an electric truck. Ram believes in bringing you the right truck at the right time, by offering you a power of choice best suited to your needs.

Don't worry Ram, you're still miles ahead of the Cybertruck. Ram originally teased a concept of an electric truck in April 2022 the same day Ford rolled out its Lightning truck, which has proved a huge success for the Blue Oval. It then unveiled the full Ram 1500 Revolution concept vehicle at this year's CES show. We know a lot more about this concept than the actual production vehicle, from our original report:
Ram says the battery pack is based on an 800-volt architecture and will fast charge at a claimed 350 kilowatts, though the actual pack capacity is left up to our imaginations. We'd expect it to be somewhere between capacious and massive, given the weight and power targets that this thing will be dealing with, if the Hummer EV is anything to judge by. We don't have any power or torque figures, but Ram says there will be two drive units and all-wheel drive.
Ram carried over most of the design cues from the Revolution, so maybe these numbers are a good guess at the final product as well. We've reached out to Ram for more information and will update this report when we hear back.