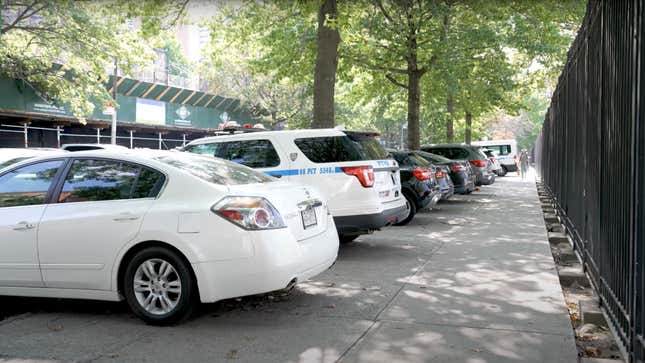 If you've spent any time at all near a New York Police Department precinct, the first thing you probably noticed were all of the cars inexplicably parked on sidewalks, in bike lanes, and in crosswalks. Well, it's not a one off thing in your neighborhood. It's an epidemic, and a new study from a Ph.D. candidate at U.C. Berkley has proved it, according to a report from Bloomberg.
This NYC Garage Takes Vanlife To The Next Level | Jalopnik Visits
In case you missed it:
Marcel Moran — the candidate in question — visited all 77 of New York City's police precinct houses. In doing so, he found that 70 of them (91 percent) had cars parked in places where they shouldn't be. It's safe to assume that the total number would be higher if the streets were bigger. The study says that of the seven precincts that didn't participate in this dickishness, five of them were in Manhattan.
"They're on narrow streets — there's just physically not room for it," Moran told Bloomberg. "There are many more demands on curb space."
It won't come as a surprise, but this isn't exactly a new phenomenon. As part of the study, Moran looked at Google Street Views at all 77 stations going back at least 12 years. There are, as you would imagine, cars where they're not supposed to be. In fact, according to Bloomberg, Moran dug up complaints about the issue dating back more than 35 years.
It's hard to say exactly if the cars parked on sidewalks are department vehicles or personal. It is most likely a mix of both. That being said, Moran reportedly observed that many of the cars had official NYPD markings.
The hazard of having NYPD vehicles parked where they are supposed to be flies in direct opposition of New York City's Vision Zero traffic safety program meant to curtail pedestrian and cyclist traffic deaths. Bloomberg reports that while pedestrian deaths fell in 2022, cyclist deaths skyrocketed. It doesn't take a genius to realize that if you block a sidewalk, crosswalk or bike lane, those folks have to divert into the street where cars are driving.
Relationships between New Yorkers and police are already strained.
"Beyond just making life hard for certain pedestrians, for people who have no problem walking by these cars or walking on the street, it undermines people's favorability of their police station," Moran told Bloomberg.

Somewhat surprisingly, the city has tried to do something about this issue, the outlet reports. Back in 2019, the New York City council passed laws that required an evaluation of city blocks that have improper permits or obstructions by motor vehicles. In May of 2022, one council member alleged that the NYPD hadn't been in compliance with the law. Then, one month later, a different member introduced two new proposals that would get rid of thousands of parking permits for city employees as well as create a civilian reporting system. As of this writing, neither of these proposed pieces of legislation have passed.
Through the study, Moran brought up a few possible solutions to the problem. Bloomberg says he brought up creating new parking facilities for officers or private-public partnerships with the NYPD and public parking garages. He also came up with a few long-term solutions which include residency requirements for officers or the use of some sort of carpool program.
Jalopnik reached out to the NYPD for comment, and the department had this to say:
We listen to our communities and we know that parking around our precincts is a persistent concern. It is difficult due to the number of persons who work in a precinct and the amount of parking available. In terms of vehicles that are seized and stored at the precinct, if we are able to operate the vehicle, we will drive the vehicle to an appropriate storage location. We recognize that this is a challenge and remain committed to addressing these community concerns.
"There are the parking problems that any employer in New York City is thinking about with employees who have to drive," Moran told the outlet. "I don't think that NYPD should be exempt from the kind of norms of parking behavior that everyone else has to deal with."