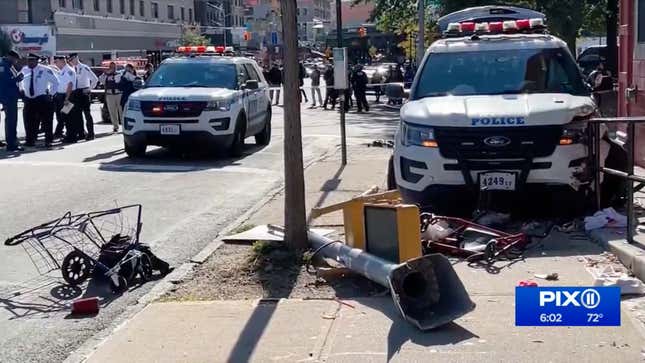 A new report from the New York City Comptroller's Office is shedding light on just how much money the city has dished out because of car accidents involving their fleet vehicles — especially the New York Police Department. Over the ten-year period covered in the report, the city settled $246.8 million in NYPD-related crash claims.
2024 Nissan Z NISMO | Jalopnik Reviews
All in all, the city's fleet as a whole racked up $653.9 million in settlements over the 10-year period that spanned from Fiscal Year 2012 to Fiscal Year 2021. The report shows that even though crash claims were lower at the end of the decade than the beginning, the total price of payouts got higher as the years went on. In 2021, the city said it spent $130.1 million on the issue. The media settlement for a crash jumped from an average of $9,000 in FY 2012 to $50,000 in FY 2021.
Some of that — as pointed out in the report — has to do with the NYPD's ever-increasing SUV fleet. It now makes up 18 percent of all NYPD vehicles, and it has far outpaced the city's other fleets. The report says that larger vehicles that are involved in collisions tend to cause more damage and injury.
The report also found that if New York City could reduce crash claims by just 20 percent, it could save the city (and us wonderful taxpayers) $25 million per year.
"The epidemic of vehicle crashes is a serious public safety concern to New Yorkers, and unfortunately the City fleet is not an exception," Brand Lander, City Comptroller, said in the report. But, in these cases, when a New Yorker is hit and harmed by a squad car or garbage truck, it's New York City taxpayers who have to settle the bill."
The report says that the best way to get around these crazy expenditures and issues is to upgrade vehicle technologies by adding automatic emergency braking and intelligent speed assistance, reducing the size and number of vehicles in the city's fleet (the actual solution), and strengthening measures to hold drivers and agencies in the city accountable.