After years of development and painstaking, life-defining engineering battles, Ford has debuted a new Edge. It, uh, looks like a car.
The car, which sports handsome new sheetmetal and a whole extra inch of wheelbase compared to the previous model, was the product of innumerable meetings, discussions, supplier contracts, labor relations, and engineering compromises.
The vehicle is almost if not completely devoid of groundbreaking features, design styles, or packaging solutions as far as the press release describes.
Ford themselves gushed over the car, stating, "the all-new Edge has been remade in almost every single detail, always keeping in mind the customer, who expects something premium, powerful and special."
G/O Media may get a commission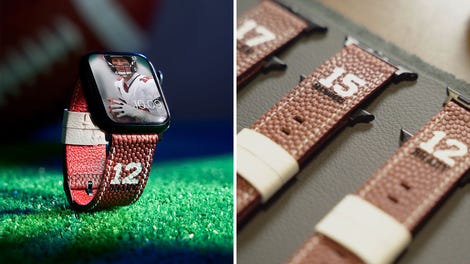 Official NFL PRODUCTS
Official NFL Apple Watch Bands
As of publishing, whatever is premium or special in this vehicle has not been discovered.
Standout elements are more airbags than before, better steel than before, and more self-parking options.
Of particular interest is that Ford is replacing the old car's 2.0 liter Ecoboost engine with... a 2.0 liter Ecoboost engine. Automotive News reported on this shockingly quick four-year turnover for the now-obsolete turbo powerplant. The now-standard new Ecoboost mill is expected to put out 245 horsepower, which would be interesting if it wasn't stuck in a car-based non-SUV.
Ford, the industrial giant and fifth largest carmaker in the world put its weight behind this brand-new machine, which you could probably notice on the street if somebody pointed it out to you.
All in all, the steady march of the midsize suburban vehicle continues on its own pleasant, inoffensive way.
Photo Credits: Ford