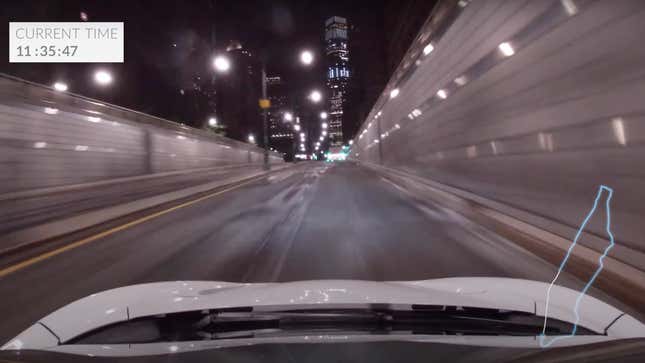 AfroDuck's record has fallen. A video posted to YouTube with little fanfare in late July shows the driver of a McLaren 720S completing a lap of NYC in 21 minutes, 3.16 seconds — beating the 24:07 record that launched AfroDuck to infamy, made him a fugitive, and forced him into exile in Canada.
Top Gear America Sneak Peek: Dax Drives a McLaren 765LT
The latest video, brought to Jalopnik's attention by Fred Smith over at Road & Track, purports to show the unnamed driver of a white McLaren 720S completing a 24.5-mile lap of Manhattan on June 29, 2020, at 2:36 AM. The driver claims to have gotten stopped by 24 out of a possible 58 red lights along the route, and a photo of the McLaren's dashboard from the end of the run shows the car, with just over 1,200 miles on the odometer, recorded an average speed of 69 mph and average fuel consumption of 5.9 mpg during the 21-minute run. (For reference, the same route takes roughly 42 minutes if you're obeying traffic laws.)
The timing of the McLaren run is notable, as is the way the video was released. As the COVID-19 pandemic unfolded, New York City went into lockdown on March 23, 2020. The city was still largely shut down when the McLaren driver recorded this lap, in the early hours of a Monday morning. Apparently, the driver hoped to avoid AfroDuck's fate by keeping this record run secret for more than 2 years: The video was only uploaded to YouTube on July 21, 2022, nearly 25 months after the run allegedly took place.
Here's the 4x-sped-up account of the McLaren's lap of Manhattan; we've also included the real-speed in-car video at the bottom of this article.
Challengers of illegal public-road speed records had a field day in the COVID lockdown era. Cross-country Cannonball records were set and broken with astounding frequency throughout the lockdown era as daredevils took advantage of empty roads and the fact that police and emergency crews were busy handling a global pandemic that killed more than one million people in the U.S. alone. It's a miracle that, as far as anyone is aware, nobody was killed or injured in any of these selfish record-setting attempts for which there's no prize, no governing body, and dwindling glory.
Consider what happened to AfroDuck. He set his 24-minute lap on August 26, 2013, driving a stock 2006 BMW Z4. AfroDuck's video landed on the internet just 3 days later, and when Jalopnik first spoke with AfroDuck — real name Adam Tang — in the days after his lap, he was certain he would never get caught.
That optimism proved to be naive. By September 4th, then-NYPD commissioner Ray Kelly had put a target on AfroDuck's back. Just one day later, 30-year-old Tang was taken into NYPD custody, charged with speeding, reckless endangerment, reckless driving, traffic device violation, moving from a lane unsafely, and following too closely. His British Columbia-registered blue BMW Z4 was impounded. Tang pleaded guilty and had his license suspended (he was later arrested for driving on that suspended license). After a trial that occasionally devolved into comedic comparisons between Tang's lap and a Formula 1 race, Tang fled to Canada. His license and passport had been revoked, but he was able to get his Z4 out of NYPD impound, and he apparently crossed the US-Canada border with his Canadian birth certificate.
Tang was found guilty of 2nd-degree reckless endangerment and reckless driving in November 2014, sentenced to a year in jail. He stayed in Canada, somewhat blatantly appearing on TV and blaming his treatment at the hands of the NYPD on his "nice Canadian" image.
As Tang wrote in an article published on Jalopnik, his bout of car-internet fame basically ruined his life in NYC, forcing him to flee to Canada — a decision that probably saved him from facing any long-term legal consequences. This year, Road & Track interviewed Tang, who described himself as a victim of "malicious prosecution" by the Manhattan District Attorney's Office. Since his return to Canada, Tang told R&T, he was contacted once by a Canadian police officer, but he says the officer told him "we're not gonna do anything" about his US arrest warrant.
Below is the full-length, unedited video of the McLaren 720S completing a 21-minute lap of Manhattan.