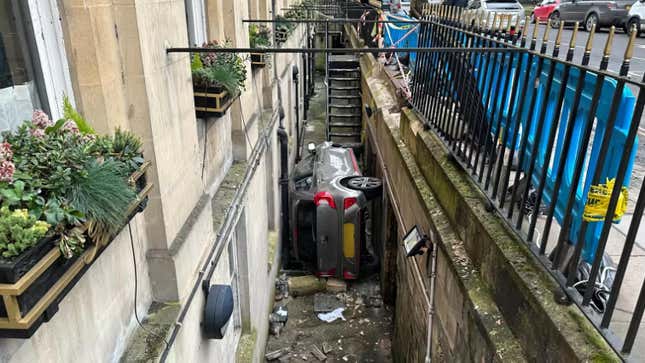 The city of Bath in England is most well known for its Roman Baths and Georgian architecture. The conservation of Bath's historic buildings has led the southwest English city to be listed as a UNESCO World Heritage Site. However, smashing a hatchback into a structure built before the United States declared independence isn't helping preservation efforts.
Top Gear America Sneak Peek: Mini Cooper JCW GP
In case you missed it:
Early Sunday morning, a 19-year-old driver plowed a Kia Picanto through a railing and into the basement alley of Bath's Francis Hotel. According to BBC News, the Avon Fire and Rescue Service was called to the scene at 4:45 a.m. The service stated that the car plunged five feet down into the alley with two occupants inside. The hatchback came to rest on its side, wedged between the hotel and the street. One occupant was able to climb out on their own, while the other had to be pulled out by fire and rescue services. Neither of the occupants were seriously injured in the crash. Police arrested the driver on suspicion of drunk driving.
ITV reported that the Francis Hotel remained open as usual despite the Kia Picanto being left at the scene. The basement where the Kia is wedged is only used for storage. Though, the Avon Fire and Rescue had to return to the scene later that day as fuel started leaking from the hatchback.
The Francis Hotel's Georgian townhouses were originally built in the early 18th century. The hotel opened for business in 1858, over a century later. In 1858, Karl Benz was only 14 years old and wouldn't build the Benz Patent-Motorwagen for another 27 years. No one then could have imagined that a car could hit the building.