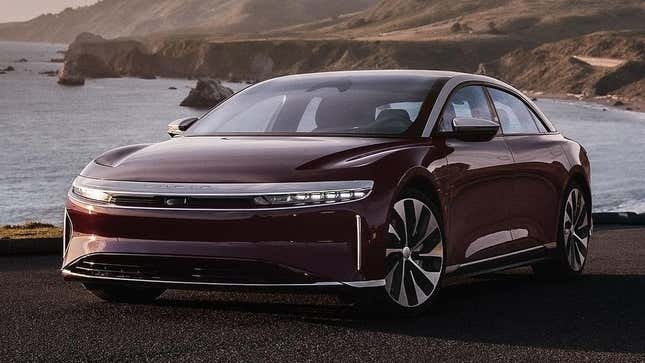 We're big fans of the Lucid Air. Compared to the Tesla Model S, the build quality is better, as are the materials and even the battery range. It's just very expensive. But if you don't actually need the Grand Touring's 1,050 hp, the 620 hp Touring is about $70,000 cheaper and still offers more than 400 miles of range. If you're lucky enough to have one in your garage, though, you should probably check to make sure it hasn't been recalled.
In case you missed it:
The Drive reports that a number of 2022 and 2023 Lucid Airs are being recalled because they could suddenly lose power. Apparently, the spring in the affected cars' primary contactor was too strong and can randomly shut off, cutting power to the entire car. Lucid reportedly first learned of this problem when a customer brought their Air in for service in May of 2022 after experiencing sudden power loss. An investigation eventually led Lucid back to its supplier, Sensata Technologies.
Lucid was able to send out an over-the-air update to determine how many vehicles were affected by the faulty contactor. So far, it's identified at least 237 cars with contactors that will need to be replaced. The company is also still waiting on 336 owners who have yet to install the update, so that number could grow. Ultimately, Lucid reportedly believes as many as 637 cars could be affected, but only a small number actually had defective contactors.
The good news for owners is that there's already a fix. Lucid has a replacement part that it will install on the affected cars, and owners of vehicles that have already been identified as needing the replacement should get a letter soon. And if you're one of the owners who hasn't updated their software yet, Lucid would really appreciate it if you'd go ahead and do that so it can figure out if your car is affected by the recall.