The IIHS's initial list of safe cars for 2019 is in, prison time for a United Auto Workers exec, General Motors job cuts and more await you in The Morning Shift for Wednesday, Dec. 19, 2018.
1st Gear: Safety First, Kids
The Insurance Institute for Highway Safety's initial 2019 safety picks are out. Thirty cars nabbed the the spot for top honors, which is impressive when you consider only 12 cars made it last year.
The criteria, which you can view in full here, includes small overlap front crash tests, side crash tests, roof strength tests and headlight rating. This year's ratings saw stricter standards, reports the Detroit Free Press, as automakers needed to earn a "good" rating in the passenger-side crash test, where they only needed an "acceptable" in the past to pass.
Among the cars picked are the 2019 Subaru Crosstrek, Toyota Corolla, Kia Optima, Genesis G70, Mercedes-Benz C-Class, Toyota Avalon, BMW 5 Series, Mitsubishi Outlander, Subaru Ascent, Acura RDX and Chrysler Pacifica. As the Free Press notes, the majority of cars awarded seemed to be from Japanese and Korean automakers:
Several major brands had impressive performances. Nearly all of Japanese brand Subaru's models landed on one of the top two lists. And Korean auto brands Kia and Hyundai, which are part of the same company, scored five and four wins, respectively.
G/O Media may get a commission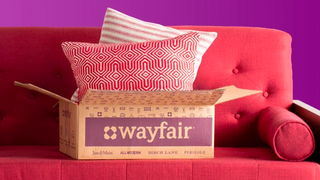 Big deals
Wayfair Surplus Sale
Brands like Tesla were missing from the list, however. Apparently, it's because Tesla didn't enter any of its three cars for consideration.
One of the things the IIHS looked for were "good" headlights:
To get onto the Top Safety Pick+ list, vehicles must have "good" headlights. To get onto the Top Safety Pick list, they must have "acceptable" headlights. To be sure, most of the vehicles on the list only qualify with optional upgrade packages that have better-functioning headlights.

IIHS tests have shown that many vehicles throughout the industry fail to provide sufficient nighttime illumination due to poor manufacturing, inadequate design or outdated regulations.

Insufficient headlights are one key reason why no pickups and many popular SUVs failed to make the list. Since they sit higher than passenger cars, they often don't project their lighting adequately and can create too much glare, said David Harkey, president of IIHS.
To see the full list of IIHS's 2019 top safety picks, click here.
2nd Gear: Prison Time
Unions, overall, are good! Jalopnik is proudly a union shop, which has helped us maintain good, living wages while we continue making terrible automotive decisions for your entertainment.
Union corruption, however, is bad. Here's just another development of the United Auto Workers' ongoing training center embezzlement scheme that involves Fiat Chrysler.
When we last left off, we reported that apparently the alleged embezzling went all the way to the top to include Nancy Adams Johnson, the union's president from 2014 to June 2018. And now it seems like she was just sentenced to a year and a day in federal prison, according to the Detroit News.
From the story:
Nancy Adams Johnson betrayed the trust of blue-collar workers by accepting thousands of dollars in illegal payments from Fiat Chrysler and spending the money on $1,100 Christian Louboutin shoes, private accommodations, golf resorts and lavish meals, according to the government. She also funneled tens of thousands of dollars of illegal payments from Fiat Chrysler to other senior UAW officials.

Johnson also must pay a $10,000 fine but could receive less time in prison if her ongoing cooperation is substantial.
The indictment from July, in case you're wondering, is wild. It includes pages that accuse Al Iacobelli, FCA's former VP of employees relations, of diverting over $1 million in funds from a UAW-Chrysler worker training and educating facility, to pay for stuff like
$315,000 for a Ferrari 458 Spider automobile
leasing a private jet
two limited edition Mont Blanc pens, spending $37,500 for each
a pool
hundreds of thousands of dollars in home improvements
hundreds of thousands of dollars in personal credit card expenses
Our autoworkers deserve better.
3rd Gear: More General Motors Job Cuts
General Motors announced last month that, in addition to closing plants and cutting some 14,000 jobs, it would also kill off the Chevy Volt. In turn, killing the Chevy Volt is going to result in more jobs lost.
GM said yesterday that the Brownstown lithium-ion battery assembly plant in suburban Detroit, which built batteries for cars like the Volt and the hybrid Buick LaCrosse, has plans to cut 50 jobs, reports Reuters.
From the story:
In a filing with the state of Michigan, GM disclosed it will cut 37 hourly jobs and 13 salaried jobs in February at its Brownstown Battery plant. GM says on its website the plant has 116 employees.

In a separate notice posted on Tuesday, GM said it will lay off nearly 700 people in February at its Detroit-Hamtramck plant that is scheduled to halt production next year. The plant will end production of the Buick LaCrosse and Chevrolet Volt by March 1 and two other cars by June.
Among the Volt and the LaCrosse, GM is also ending the production of the Cadillac CT6 (but not in China), Chevrolet Impala, Chevrolet Cruze and Cadillac XTS.
Long live big, new trucks and SUVs, I suppose.
4th Gear: More on Dieselgate
If you're feeling like the Dieselgate stuff is never-ending, then the feeling is mutual, my friend.
Now, a German auto supplier, IAV Gmbh, has plead guilty for conspiring to help Volkswagen avoid U.S. diesel emissions standards, the U.S. Justice Department said, according to Reuters. It will pay a $35 million fine.
From the story:
IAV, which is 50 percent owned by Volkswagen, will serve two years of probation and be under the oversight of an independent monitor, the Justice Department said. Volkswagen has previously agreed to pay more than $25 billion in the United States, owing to claims from vehicle owners, environmental regulators, states and auto dealers, and has offered to buy back about 500,000 polluting U.S. vehicles.
This has been your latest Dieselgate update. We'll be sure to alert you when another something ugly gets dragged up.
5th Gear: VW Buys Connected Driving Developer from Volvo (Trucks)
There's no sense in dwelling on the past, which is why despite Dieselgate, Volkwagen is still pushing forward with its electrification, data exchange and autonomy agenda.
VW will spend 1.1 billion Swedish crowns (about $121.5 million) to buy a 75.1 percent stake of WirelessCar from Volvo Trucks, reports Reuters. WirelessCar is a "digital service developer specializing in connected driving."
From the story:
[WirelessCar] has more than 3 million active connected cars across the globe and is expected to report revenues of about 500 million crowns in 2018, Volvo said in its statement.

VW said WirelessCar technology would further its goal of developing value-added services for customers by enabling safe and stable data exchange between operating systems in its cars and a cloud platform it is developing with Microsoft (MSFT.O).
Volvo will put the money towards commercial cars, which we here at Jalopnik have sampled many of and liked very much.
Reverse: Bullitt In Sweden
Neutral: Do You Buy Cars for Their Safety Ratings?

How high does safety rank on your list of priorities?