The 2018 Volvo S90 will make you feel fancier just by sitting in it. Between its clean Swedish lines and ornamental buttons, you may leave this car wondering why any other luxury car exists. If it's not as fancy as the Volvo, just take it away. It is unworthy of carrying you.
(Full disclosure: Volvo graciously delivered a brand-new S90 to my house with a full-tank of gas. I felt like Fancy Kristen the entire week despite the fact that I'm the member of the Jalopnik staff who once installed a cupholder in her car with a hose clamp.)
There really isn't a bad seat in the S90. The sleek but functional interior design is so good. The same tidy aesthetic we love in modern Scandinavian furniture was translated into a car, inside and out. The matte finish woodgrain in the Inscription trim you see here contrasts neatly with the ultra soft bone hued leather seats.
G/O Media may get a commission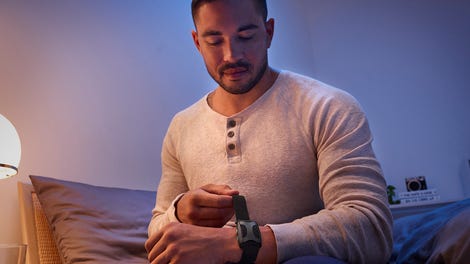 Diamond pattern metal on the engine and drive mode switches glimmers in the sun. The frameless, beveled edge rear-view mirror is such a simple little touch, but it felt different and special every time I looked like it. It feels less like a car and more like a comfortable living room.
The back seat, with its retractable side, rear and roof sunshades, is a better place to be chauffeured than most Town Cars and limousines. Tired of looking at garbage beige McMansions when you're stuck in traffic? Just close the shades yourself with the controls sitting next to you, and hide the world. As with any good large car, the backseat comes with its own HVAC controls. There's miles of leg room back there, even for taller passengers.

On top of all that, the optional Bowers & Wilkins stereo system sounds excellent and there's even a WiFi hotspot.
If you'd like to enjoy this ultimate comfort from the driver's seat instead, the S90's heated and ventilated front seats are a solidly swanky place to be. Someone put actual thought into the design of the interior controls. This is the first time I've had a big infotainment screen in a car that I actually liked.
Usually, I hate big screens as they're so poorly laid out that they seem almost dangerous to use. They simply take too much attention away from driving. But in the Volvo, things on the screen were laid out in an intuitive manner, such that I barely had to look over to go through the menus. That shouldn't be a luxury—that should be the new standard of how it's done.

Pilot Assist—Volvo's semi-autonomous driving system—really only works in stop and go traffic, where my feet could rest. It's no autopilot; you have to keep your hands on the wheel, but the system lets you control how closely the S90 follows the car ahead, and it will automatically brake when that car slows or stops. A few times on my test ride, Pilot Assist decided to stop a little closer to the next car's bumper than I might have liked.
The system wasn't as good on the open road though. In fact, the Volvo loved to hug the dotted line when I tried it.
But in slow-moving city traffic, I felt like I could trust it. When the herd of cars started moving again, so would the Volvo. It successfully made the grinding get-out-of-town-at-5-p.m. experience a little less aggravating.

Once you do break out of town traffic, the S90 can stretch its legs a little. Since I was in the all-wheel-drive model, I wanted to see how it performed on a loose surface. I tried to left-foot-brake and flick it around a little (I mean, it is Scandinavian, after all) in the dirt. It held itself together perhaps a bit too well, refusing to kick its tail end out for long. After a few miles I decided that the S90s biggest weakness as a driver's car is a tendency towards safe, predictable understeer.

If you want to get sideways in a Volvo, you should take your fancy self to M-Sport's World Rally Championship team and ask to borrow one of their recce Volvos. Note that you're an important person as you get whisked about in an S90 on a regular basis. Well, you feel important in this car, anyway, and that's what matters.

The S90 is clearly not optimized for such shenanigans, but it's definitely not slow. Its 2.0-liter twincharged engine pumps out 316 horsepower and 295 lb-ft of torque. Adequate. More importantly for a car like this, the ride is markedly smooth with optional air suspension in the rear.
Overall, this is the most thoughtfully designed car I've encountered in years. Everything lives in a place that make sense, and was relatively easy for even me—a self-titled luddite who hates to read the manual just to figure out a car—to use. I'm shocked at how little it cost, too. Our test car rang up at only $69,140, optioned up from an MSRP of $54,100, which seems competitive for a car this big and elegant.

I don't care if you spent more on a different car, or whatever. If it's not as nice as this S90, it should not befoul your space. Send it away until someone brings you a good Volvo.
2018 Volvo S90 T5 FWD Momentum Specs
Engine type
Intercooled Turbo Regular Unleaded I-4
Transmission/Drive
Automatic w/OD