There's no truth to the rumor that this Nice Price or Crack Pipe Sunchaser can only be driven towards the west. What is true is that this targa-roofed Celica needs some fixin' and we're fixin' to find if it's worth its asking in light of that.
Really? Serious-balls? I'm speaking of course, to the 65% of you who wouldn't go eighty-five hundred on yesterday's turbo-2.0 equipped '83 VW GTI. I totally thought that would have gone the other way, but then here we are with a Crack Pipe plot twist worthy of the Twilight Zone or a blue-balling prom date.
Back in the day, about the same time that Volkswagen was heating up their hatches, what Toyota was doing was beheading their ponies. Well, actually they paid someone else to do it as it's pretty dirty work.
The Celica was the pony-car, and the work was done by the Griffith Company. Yes, that's the same Griffith who years earlier where the crazy masterminds that plugged Ford 289 V8s into spidery TVR chassis' creating the Griffith Griffin. This conversion is a lot more fun-in-the-sun than terror-on-the-track, but it's no less well executed.
G/O Media may get a commission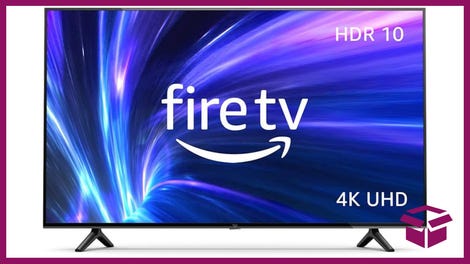 42% Off
Amazon Fire TV 50" 4K Smart TV
The Sunchaser was commissioned by Toyota and had the company's backing. About 2,000 total were converted from '79 through '81, across a mix of ST and GT models. The change involves making the car into a soft-backed targa, exactly like the Lancia Zagato or the original Porsche 901 Targa - yes the 901s had a fabric roof before they went all glass back there. A similar car - the Sundancer - was created using AMC's 4x4 Eagle as a base.
Cutting the roof off a unit-body car can and will turn the ride into a floppy piece of overcooked asparagus, but in the case of the Sunchaser that was taken into account. Underneath, additional square section supports were added connecting the front and rear subframes, along with a reinforced windshield frame and other strengtheners.
You might be able to see some of that work on this 1980 Celica ST Sunchaser as there's a good bit of the interior that has been removed for some undisclosed reason. The parts are there - or at least the replacements are. The carpet comes in a roll, the seats come out of a Lexus and aren't bolted in (can they be without major modification?), and there's a new convertible top for the back section. All you have to do, as they say, is put the pieces together.
The ad notes that the engine and gearbox - a 20R and a five-speed - work as they should and that the car drives and stops. In the pictures it's sitting on some 17-inch Ballers but the car is being sold with its factory wheels. That's a win-win in my book. Paint looks good for the most part, although there is something weird going on with the hood. Also, you'll need to invest in a key lock for the trunk if you plan on keeping your treasure back there.
You won't need a whole treasury full of cash to buy the car as it's only $1,500. That get's you the car and the parts (but not the funky wheels) and a clean title. The seller says it has 47k on the clock, but that it could be 147k. This being an '80s Toyota, I don't think that matters all that much.
What does matter is your opinion about this project Sunchaser's price. What do you think, is $1,500 a good deal to take on this rare pony project? Or, for asking that much, is this seller just chasing his dreams?
You decide!
St Louis Craigslist, or go here if the ad disappears.
Help me out with NPOCP. Click here to send a me a fixed-price tip, and remember to include your Kinja handle.