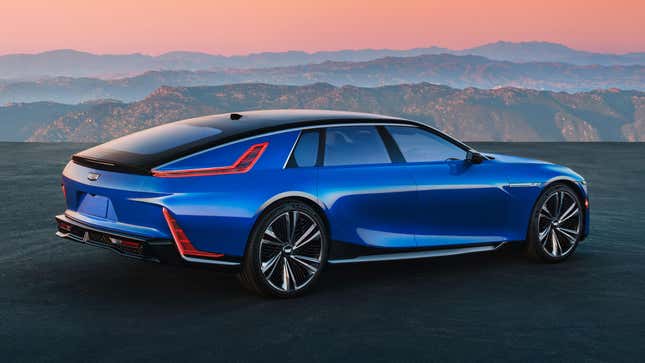 General Motors seems to have looked at the issues that Tesla's Full Self-Driving Beta has dealt with and thought to itself, "there must be a better way." Pitfalls like complicated intersections and city streets have proven to be a real issue for Tesla's less-than-reliable system. So, when GM debuts "Ultra Cruise'' – a semi-autonomous driving system that covers about 95 percent of driving scenarios – next year on the Cadillac Celestiq, it's attempting to avoid those problems… at the beginning at least.
In case you missed it:
Automotive News talked with Jason Ditman, a chief engineer for the system. He said Ultra Cruise will actually tell drivers to take over in traffic circles or at other complicated intersections. Furthermore, it'll give up control to the driver at the threshold of a destination like a parking lot or the owner's driveway.
"Over time, we'll grow this to where we're covering nearly every paved road," Ditman said to AutoNews.
GM has apparently been repeating the phrase "safety deploy" when it comes to Ultra Cruise. This approach and rollout are being done in sharp contrast to Tesla's FSD Beta. That system is currently under a massive recall, it's under investigation by the U.S. Department of Justice, and it has led to shareholders suing the automaker over allegedly false safety claims.
The rollout of Ultra Cruise isn't the only way it'll be different from FSD Beta. The technology and approach to how the system operates is also a departure. The outlet says that instead of using just cameras like Tesla does (for now, at least), Ultra Cruise will combine seven long-range cameras with over 20 sensors. The system uses short- and long-range radar, lidar behind the windshield, and a camera on the steering column to make sure the driver behind the wheel is actually paying attention.
In a slight dig at Tesla, Ditman said GM hasn't begun testing Ultra Cruise on public roads just yet, but it'll be fully vetted before it's released to the public. That's a much different approach than what Tesla has employed by using its customers as human-shaped guinea pigs on public roads.
Automotive News says that when it's first launched, Ultra Cruise is only going to be offered on high-end GM vehicles, according to Ditman. That'll free up Super Cruise – an excellent system in its own right – to expand to more mass-market vehicles in GM's stable of vehicles. Ultra Cruise will reportedly spread far beyond the flagship, $300,000 Celestiq at a faster rate than Super Cruise made it to other vehicles.