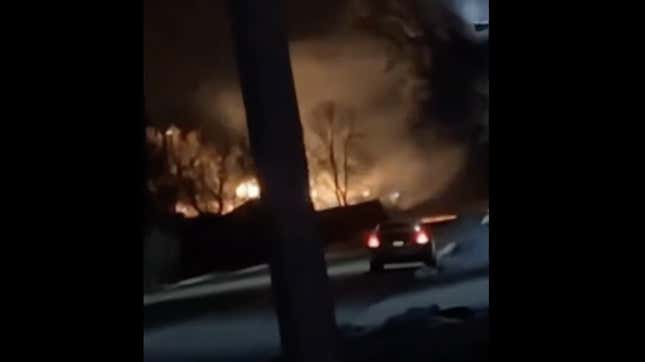 Residents of the small community of Raymond, Minnesota evacuated their homes Thursday after a freight train derailment sparked an intense fire in the early hours of the morning.
In case you missed it:
At least 22 cars on a BNSF Railway freight train derailed around 1:00 a.m. local time. Some of those cars were tankers carrying corn syrup and "a form of ethanol" according to a press release from the Kandiyohi County Sheriff's Office. Anyone living within a half a mile of the blaze in the town of 800 was evacuated, as regional firefighters and first responders battled the blaze.
An update on the Kandiyohi County Sheriff's Office Facebook page posted Thursday morning indicated there were no injuries involved in either the derailment or the fire, though the scene is still active and under investigation by BNSF agents. The Federal Railroad Administration is also on the ground investigating, according to a tweet from U.S. Transportation Secretary Pete Buttigieg:
BNSF is one of the largest rail operators in America, and operates 32,500 route miles in 28 states and three Canadian providences. The company is also responsible for a derailment just last week that dumped diesel fuel on tribal land in Washington state. A week before that, a BNSF train carrying a load of corn syrup derailed near the California-Nevada border. There were no injuries or spills reported at that derailment.
Obviously, BNSF isn't alone in experiencing derailments. It was a Norfolk Southern freight train that derailed in East Palestine, Ohio. Norfolk followed up that derailment with one in Michigan as well. And recently, a CSX train jumped its tracks in West Virginia, dumping an "unknown" amount of diesel fuel into a federally protected river.
It may seem like there is an epidemic of train derailments in the U.S. right now, but in actuality the media is newly focused on such derailments following the disaster in East Palestine. Last year, there were an average of three train derailments every day, according to the FRA. We don't hear about them, mostly because the vast majority of derailments occur in rail yards, NPR reports, with human error being the leading cause of derailments in recent years. In years past, track problems beat human error as the cause of derailment.
Of course, exhaustion and skeleton crews — problems that led railroad workers to nearly strike before Congress stepped in and put a stop to workers walking off the job — are becoming more common. Railroads slashed their payrolls during COVID-19 and, despite record profits, have been hesitant to rebuild their workforces. And when workers are exhausted and overloaded, accidents can become more frequent. It's also important to note that trains are actually fairly safe: Accidents have dropped 40 percent since 2000, according to NPR.
We will update this story as more information emerges.