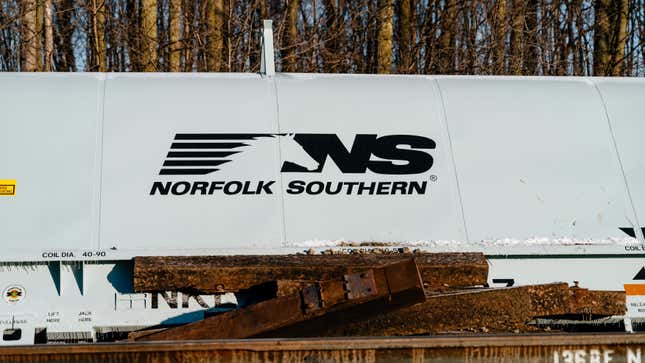 Last Saturday, a Norfolk Southern train derailed in Springfield, Ohio. Of the cars that left the tracks, four empty cars had previously been carrying diesel exhaust fluid and a wastewater treatment additive. This derailment happened a month after another Norfolk Southern train derailed in East Palestine, Ohio and contaminated the surrounding area with toxic chemicals.

In case you missed it:
The 28 cars of a Norfolk Southern train derailed directly in front of waiting vehicles at a railroad crossing in Springfield. According to NBC News, the 212-car train departed Bellevue, Ohio, with Birmingham, Alabama as its intended destination. Four of the derailed cars as "empty non-hazardous material tank cars." Kraig Barner, Norfolk Southern's general manager of operations, stated, "None of those derailed cars were carrying hazardous material, and there were no injuries reported to the public or the two-man crew operating the train."
Shawn Heaton, a driver at the crossing, said to the Springfield News-Sun:
"I was right there, and I was playing on my phone, and then I heard a loud bang. And when I heard the loud bang, I started recording. When I heard the bang, there was all kinds of debris and metal shoot out from under the cars, and that's when I started recording, and you could see them start jumping off the tracks."
Thankfully, there seems to be no significant damage to the local communities other than leaving 1,500 utility customers without power. Clark County has stated that the Clark County Hazmat team, the Ohio Environmental Protection Agency and Norfolk Southern have independently determined that nothing harmful was spilled at the crash site. The National Transportation Safety Board is sending investigators to determine the cause of the derailment.