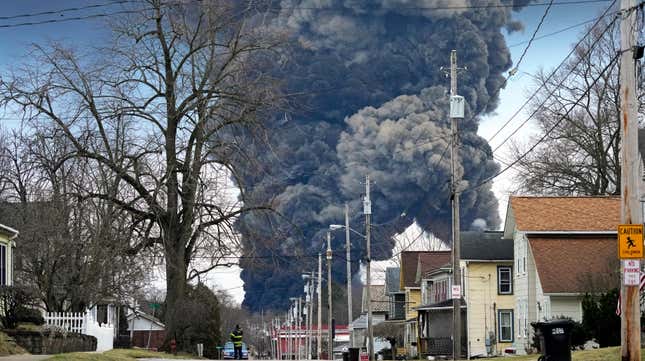 This past weekend, a cargo train carrying toxic chemicals derailed in Ohio after a mechanical failure. Residents within a one-mile radius of the crash were to evacuate over fears that temperature changes in the five vinyl chloride tanks could lead them to burst, sending shrapnel and toxic gases out into the world.
Now, in an effort to avoid an explosion, authorities have begun intentionally releasing those gases. Caught up in the flames of the wreckage, the noxious chemicals — hydrogen chloride, a corrosive irritant, and phosgene, a chemical used as a weapon in World War I — have begun to burn, spewing black smoke into the atmosphere.
According to the New York Times, authorities had originally hoped to simply quell the flames from the wreckage — each tanker car had safety features meant to handle the shifting temperatures and pressures of such a crash. But last night, it appears some of those safety measures began to fail, leading to the decision to release the chemicals and burn the fumes.
Members of the National Guard have been dispatched to help control the blaze, as well as to determine the chemical risks stemming from the crash. West Virginia has sent guardspeople to test Ohio's water supplies, hoping to find that no vinyl chloride has seeped in — and that the water is still safe to drink.
Of the 20 hazardous material cars that jumped the tracks, only five have had any kind of controlled release. Whether the remaining fifteen are stable, or if railroad workers will have to perform another controlled release further down the line, remains to be seen. So far, there appear to be no plans for further burn-offs — though there were no plans for any when this process began just a few short days ago.