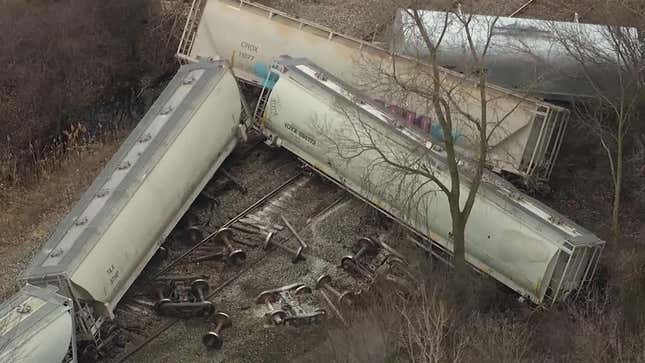 Michigan Fox affiliate Fox 2 is reporting that local authorities are responding to another train derailment, this time in Southern Michigan. At this time, no injuries have been reported, and there have been no concerns about toxic chemicals — though another derailment so soon after Ohio's freight train disaster has raised questions about rail safety in America.
Authorities say that a train has derailed in Van Buren Township, right outside of Ann Arbor off of I-94. Authorities are telling locals to avoid the area, though there are no concerns about fatalities or chemicals.

Details are still sparse, and it's not clear just how the train derailed, but the Van Buren Public Safety Department has been clear in reassuring individuals that this isn't a hazmat situation. They've found no evidence of any chemical or toxic spill. The Michigan Department of Environment, Great Lakes, and Energy backed that up saying that there was no threat to the public. This is simply an accident.

Michigan Congresswoman Debbie Dingell made a statement regarding the situation, saying that she's been in contact with local officials over the incident.

"We are also in touch with the relevant federal authorities, including the EPA," she said. "At this time no one is aware of the release of any hazardous materials, the car carrying hazardous material has been put upright and is being removed from the area of the other derailed cars, and EPA is dispatching a team to ensure public safety."
The fact that this isn't a hazmat derailment may be a relief for some, especially after the tragic situation just over 200 miles away in East Palestine, Ohio. Toxic plumes of vinyl chloride have displaced residents and could poison the local area for years to come. But with two rail accidents taking place in such a short span of time, it's time to start asking hard questions about rail infrastructure.