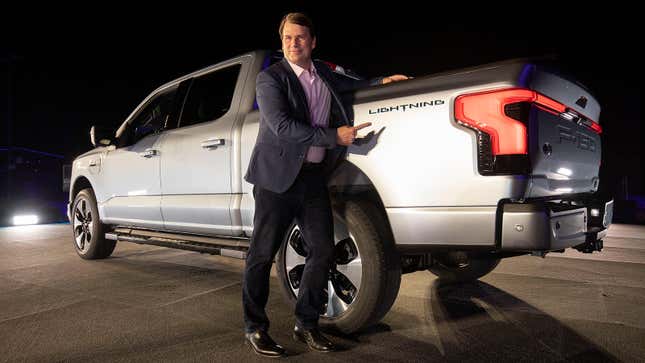 Good morning! It's Tuesday, May 23, 2023 and this is The Morning Shift, your daily roundup of the top automotive headlines from around the world, in one place. Here are the important stories you need to know.

This NYC Garage Takes Vanlife To The Next Level | Jalopnik Visits
1st Gear: Just Ford
Ford held a capital markets day event in Dearborn yesterday for analysts and the media, where decision-makers at the company made some wide-ranging proclamations. First off, CEO Jim Farley believes car prices at large will fall through the rest of 2023 — which tracks, given the latest headlines — and acknowledged that Ford still sells gas-powered cars and should consider marketing them, because that's what at least nine of 10 shoppers are still buying. From Bloomberg:
Ford Motor Co. expects auto prices to fall by more than 5% this year and next as dealer inventories grow, and the competitive pressure will take a toll on Tesla Inc.'s dominance of the electric vehicle market.

"They've had the market to themselves, they had a big head start," Jim Farley, Ford's chief executive officer, said of Tesla in an interview on Bloomberg Television Monday. "And now they're seeing a lot more pressure."

Ford plans to boost spending on marketing its traditional internal combustion engine vehicles in response to falling prices, Farley said. The automaker is depending on gasoline-fueled models like the F-Series pickup truck and Bronco sport-utility vehicle to finance its $50 billion plan to roll out EVs.

"We're going to have to spend more this year and prices will come down," Farley said. On gasoline fueled models "we've under-invested in advertising."
However, Kumar Galhotra, who leads Ford's internal-combustion division, believes today's high margins on gas cars are here to stay, and will only increase over the next few years, per Auto News:
Galhotra ... said profit margins from combustion vehicles will grow from 7.2 percent today to at least 10 percent by 2026. Those growth plans are driven by the company's focus on profitable vehicle segments and high-margin, low-cost derivatives.

"Trucks, off-road and performance segments have a long runway," Galhotra said.

Still, he said Ford Blue's volume and margins are likely to shrink after 2025 as EVs gain popularity. Despite the eventual contraction of the business, Galhotra noted Ford sees "strong U.S. ICE and hybrid sales well into the next decade."
...while CFO John Lawler wants Wall Street to know that Ford knows it screwed up last year, when it missed its projected pretax profits by about $1 billion thanks to far too many recalls, certainly more than the normal amount. Courtesy Reuters:
"You're not going to believe us until we start delivering it," Ford Chief Financial Officer John Lawler said at an investor day presentation. "Because we've told you this before. That's the truth. We have and we haven't delivered. So we have to prove it. We can talk about it, but we have to prove it."
Prices will fall but Ford will make bigger profits — for real this time and not like it said it would and didn't in 2022. Also, it'll cut all its waste, make quality vehicles and turn around its money-hemorrhaging EV business in three years. Ford can't necessarily prove all of these things are going to happen, but investors just have to believe. It's frazzled because it cares.
2nd Gear: Tesla's Exporting China-Built Cars
Tesla has begun exporting its least-expensive models from China to sell in Canada, Reuters reported Tuesday citing information on Tesla's Canadian website:
Tesla's website showed both rear-wheel drive Model Y vehicles and the long-range, all-wheel drive version of the Model 3 available for immediate delivery in British Columbia, with codes showing they were manufactured at Tesla's Gigafactory Shanghai.


Both models qualify for federal incentives of C$5,000 ($3,700) in Canada, which, unlike the United States, does not link electric-vehicle subsidies to the location of the plant that made the car.

Tesla representatives in China and at the company's headquarters in the United States did not immediately respond to requests for comment.

The company and other electric car manufacturers have a cost advantage in China as exports from that market boom. The China-made version of the Model Y was listed for C$61,990 in Canada. That is about 22% more than the equivalent vehicle costs in China before incentives.
Reuters theorizes that since Canada allows foreign-built cars to qualify for incentives — because Canada understands the original purpose of these incentives in the first place — Tesla can dedicate its entire North American output to the U.S., where those cars will get discounts. This move also makes sense because the Shanghai plant alone accounts for more than half of Tesla's worldwide production at present, so it's got product to spare.
3rd Gear: Lotus/Alpine Partnership On Ice
Lotus and Alpine were to work together on a common sports car that would replace the A110. This tie-up was announced in 2021, but two years later it seems one side or the other cooled off on the idea and it's no longer meant to be. From Automotive News:
"We have decided not to progress with the joint development of a sports car for Alpine. This is a mutual decision reached amicably," Lotus said in an emailed statement to Automotive News Europe on Monday.An Alpine spokesperson did not immediately respond to a request for confirmation.

Bloomberg reported on Friday that Renault was considering using its own technology to develop future Alpine models rather than working with Lotus.However, Lotus, which is majority owned by China's Geely, hinted that the two companies could collaborate on other future models. "We have built a strong relationship between the two companies and will continue to discuss other opportunities," Lotus said on Monday in its statement.Renault and Geely are collaborating in other ventures, including a combustion-engine company called Horse and production of vehicles at Renault's factory in Busan, South Korea.
Renault and Geely are both big companies that could probably figure out these challenges on their own if they really wanted to. But sports cars are low volume by nature and, at a time when even Toyota won't go it alone, a collaboration like this one seemed to make a lot of sense. Alpine is determined to go electric and come stateside either way. Unfortunately by the time that happens, the A110 probably won't be on the market anymore, or Alpine won't see a point in modifying it for U.S. regulations.
4th Gear: Lordstown Fighting To Stay Listed
Lordstown announced its inevitable reverse stock split Tuesday morning, done for the purpose of raising share prices above $1 so the company can stick around on the Nasdaq stock exchange. From Reuters:
Lordstown Motors Corp on Tuesday announced a reverse stock split to meet Nasdaq listing norms and appease investor Foxconn, which has threatened to scrap a crucial $170 million funding for the struggling electric-vehicle maker.

The 1:15 split has been scheduled for May 24, the company said, but added there was no assurance that the Foxconn deal will close.

Lordstown Motors' shares fell 10% in premarket trading to $0.26, slipping further below the $1 minimum listing requirement of the Nasdaq.

The company had earlier this month warned it might be forced to file for bankruptcy due to uncertainty over the investment from Foxconn.

A year ago, the startup completed a deal to sell its Ohio factory for $230 million to Foxconn, excluding some assets.
It's getting increasingly harder to see the little electric truck that could make it out of this one.
5th Gear: Lynk & Co & Europe
Lynk & Co, a Geely brand with a weird name but cool-looking EVs, wants to insert itself into Europe's family of premium luxury makes. While the company does currently sell and rent out its cars to customers on the continent, it's still very much in the growing stages — eyeing a showroom in France early next year and continued expansion through the rest of Europe, including the U.K. From Reuters:
The automaker, which both sells and rents cars on monthly subscriptions, already has what it calls clubs, which look like bars or lifestyle shops, in Belgium, the Netherlands, Germany, Sweden, Spain and Italy. [...]

"We have plans to enter other European markets in the short term: Norway, Austria, Switzerland and the UK," said Visser, who worked for General Motors, Ford, and Volvo before Lynk.

Visser said Lynk had the "ambition" to also branch out into the U.S. market at some stage. [...]

In 2022 Chinese-made electric vehicles already had a 9% market share in Europe, nearly double the previous year, according to consultancy Inovev, and the pace is picking up.

Lynk says it had 200,000 monthly memberships in Europe as of April, of which around 25,000 are in France, up from 180,000 and 21,000 respectively a month earlier.
200,000 subscriptions sounds damn good for a brand from China outside China. And Geely might just be able to bring Lynk over to these shores one day, current headwinds aside. It's been able to maintain Volvo's presence in the States, after all.
Reverse: Roving Land Rover
On this day in 2000, 23 years ago, BMW finalized its sale of Land Rover to Ford for $2.73 billion (about $4.8 billion in today's money). Ford held onto Land Rover for seven years — about a year longer than BMW had the Rover Group — before spinning it off to Tata where its been ever since.
Neutral: Shooting Brake Syndrome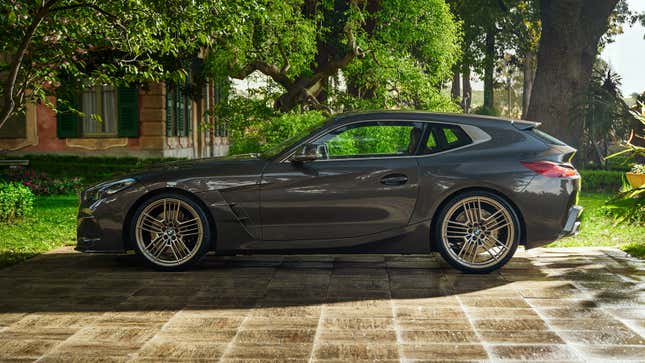 I feel like this thing just looks fine and the entire automotive world is salivating over it because it's a shooting brake (read: enthusiast bait) and moderately attractive, which is more than anything a non-contrarian has said about a new BMW in the last four years. What say you?