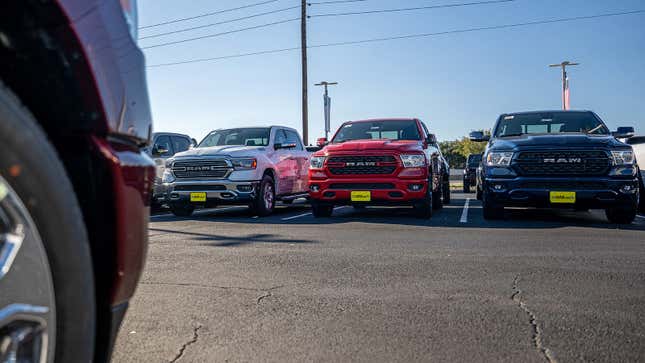 Good morning! It's Monday, May 22, 2023 and this is The Morning Shift, your daily roundup of the top automotive headlines from around the world, in one place. Here are the important stories you need to know.

This NYC Garage Takes Vanlife To The Next Level | Jalopnik Visits
1st Gear: It's Not Enough, It's Too Much
After several years of constrained stock from silicon shortages, 2023 marks the first spring in a good while where it's not exceedingly difficult to get exactly the car you want. Some dealerships actually have an excess of vehicles on the lot. You'd think they'd be able to move them, because demand is what it is. But with inflation and interest rates also being what they are and refusing to concede ground for consumers, some dealers are going through an epiphany. Why, they might just have to throw out an incentive or two! From the Wall Street Journal:
"We had times where you could have a helicopter land on my lot," said David Kelleher, president of a dealership group based in Glen Mills, Pa., that sells the Chrysler, Ram, Jeep and Dodge brands.

Now, he is seeing stock levels swell, including on some specific models, he said.

"We need to enhance sales and stop ordering," Mr. Kelleher added. "Because of the interest-rate climate, we have to think differently now."

Overall, dealerships had about 1.8 million vehicles in transit or on lots at the end of April, a 50% improvement compared with the same period in 2022—but still about half the stock available two years before, according to data from industry-research firm Wards Intelligence.

U.S. auto sales have remained resilient, mostly because of pent-up demand, and even picked up in the first quarter of this year as inventory levels improved. Buyers are also still paying historically high prices—the average vehicle sold for about $46,000 in April—and the amount of discounting on the car lot remains well below prepandemic levels, according to data analytics firm J.D. Power.

But fast-rising interest rates are making it harder for many buyers to get into a car they can afford, a dynamic that is starting to weigh on sales, dealers say.

With inventories also coming back, analysts say that pressure will rise to uncork the kinds of promotional deals that have dented profitability in the past.

"The demand is there, but they're running into a drastic change in their monthly budget where car payments might be doubling," he added.
The Journal adds that Stellantis' American brands — Ram, Jeep and Chrysler — have about double the industry average these days in terms of unsold stock. A similar story is playing out for Buick, Jaguar and Infiniti. Toyota and Honda are still tight on product, while new pickups are broadly as plentiful as they were before COVID hit.
"You know you're back to normal when the truck month comes back," S&P Global Mobility analyst Mike Wall told the publication. Thank the lord that of everything we lost in these unprecedented times, Ram Truck Month was mercifully spared.
2nd Gear: Ford Struck Some Lithium Deals
Ford believes it'll be able to build 600,000 EVs by the end of this year. The company sold barely more than a tenth of that in the U.S. in 2022, and only moved about 11,000 in the first quarter of 2023, so it doesn't really need to have this manufacturing headroom yet — but Team Blue is all in on its money-losing EVs. So much so that on Monday, Dearborn announced it had signed yet more contracts to secure the lithium it needs for all those cars. Courtesy Reuters:
Albemarle Corp and Nemaska Lithium will supply lithium hydroxide, a primary ingredient in the cathode of lithium-ion batteries, over a period of five and 11 years, respectively, Ford said on Monday.


Lithium, a key component in most modern EV batteries, has a higher energy density, making it possible to keep batteries compact and have higher storage capacities, crucial to enable covering long distances between charging.

Privately held EnergySource Minerals will supply lithium hydroxide from the Imperial Valley, California site, which is expected to be operational in 2025, it said, while Compass Minerals will provide lithium carbonate.

Ford had earlier this year joined PT Vale Indonesia and China's Zhejiang Huayou Cobalt as their new partner in a $4.5 billion nickel processing plant in Indonesia.

The U.S. automaker on Monday also reaffirmed its full-year forecast of $9 billion to $11 billion of adjusted earnings before interest and taxes and about $6 billion in adjusted free cash flow.
Shares of Ford were trading about a percent higher following the news, which tracks. I don't really know if this qualifies as good news, either.
3rd Gear: Toyota's Not Alone
You may think the world's biggest automaker, let alone Japan's, might be digging its own grave with its arm-length stance on EVs, but Toyota's not alone. From counterparts like Honda to smaller players, Japan's top automakers all just generally want to wait and see how the market plays out, and the ramifications of a fully-tapped global battery pipeline. Here's Suzuki's stance regarding its most lucrative market, via Bloomberg:
"EVs are unlikely to take off in India until household access to electricity is closer to universal, [Suzuki] President Toshihiro Suzuki said. "It's wrong to assume that there's only one solution," he said, adding that the world is "a bit over-focused" on battery-electric vehicles.
Isuzu's:
"It's not like Japanese automakers want to take an easy solution, or like to go the effortless way," [Isuzu] CEO Masanori Katayama said. "If somebody could pinpoint the right answer as to whether it should be battery-electric vehicle, or it should be fuel cell-electric vehicle, that would be easier on our part, because our R&D could focus upon such areas. But we don't have such an answer, at least as of now."
Honda's:
"The objective is achieving carbon neutrality," [CEO Toshihiro] Mibe said. "There are many different technologies that help us do that."
and, last but not least, Mazda's:
"We are a rather small-scale manufacturer, so we can't take the same approach as the big players," said Akira Marumoto, who will step down as Mazda's CEO next month and hand over control to Masahiro Moro. "We have to monitor what's happening in the marketplace and with our customers."
Mazda is reportedly uncertain how its plug-in hybrids will take off. It better, for the sake of the rotary engine's future.
4th Gear: Volvo Got A Big Contract
Holcim, which we're told is the world's largest producer of cement and building materials at large, just ordered a milestone 1,000 electric trucks from Volvo, Bloomberg reported Monday:
Holcim Ltd. plans to buy as many as 1,000 electric trucks from Volvo AB in what would be the Swedish manufacturer's largest-ever order for battery-powered rigs.

Both companies signed a letter of intent for delivery of the vehicles between now and 2030, according to a statement Monday. The first 130 heavy-duty FH and FM electric trucks will be handed over this and next year.

Manufacturers including Volvo, Daimler Truck and Volkswagen's Traton are marketing electric and hydrogen-powered trucks to logistics companies and industrial manufacturers seeking to reduce their fleet emissions. Switzerland's Holcim, the world's biggest maker of building materials, has been divesting cement activities in emerging markets to cut its CO2 output and focus on high-value businesses in Europe and the US.
Meanwhile, Tesla still has but 100 Semis on order courtesy of PepsiCo. Until Volvo has enormous electric rigs on the road with Chester Cheetah emblazoned on trailers, is it really winning?
5th Gear: Honda's China-Built SUVs Try Again In Europe
Honda's electrification strategy is still taking shape, and is weirdly quite unique territory to territory. For example, here in the States, the company is enlisting General Motors to help it ship its next slate of EVs before going fully in-house. In Europe it currently has all but the delightful-but-highly niche Honda e, while in China the brand has leaned on local entities GAC and Dongfeng to help it offer SUVs like the e:NP1 and e:NS1.
Now Europe is due to receive the electric e:NY1, plug-in hybrid CR-V and ZR-V. That's a lot of alphanumerics, all of which will be made in China and shipped to the old continent with the mission of boosting the brand's middling sales of late. From Automotive News:
The ZR-V strengthens Honda's compact offering by giving the brand a smaller SUV below the CR-V. The car will be available only with a hybrid drivetrain centred around a 2.0-liter gasoline engine.

The e:NY1 small SUV is based on the HR-V but its design has been updated to differentiate its electric drivetrain, Honda said.

White 'H' badges around the vehicle signify that it is all-electric. The 15.1-inche central touchscreen is much larger that the HR-V's 9-inch screen.

The e:NY1 uses a 69 kilowatt-hour battery to gives it a range of 412 km (256 miles), Honda said. Power is 201 hp.

The car is badged as the e:NS1 and e:NP1 in China depending on which joint venture partner builds it.

Honda has not released European prices for the e:NY1 but it could be cheaper than the premium-priced Honda e city car, which costs from 39,990 euros in Germany.

The HR-V starts at 32,600 euros in Germany.
The ZR-V, for the record, is what we know here in North America as the HR-V. Europe's HR-V looks a little better and is smaller, which is the way it always goes. Will this work for Honda? Something has to! Seems consumers in China aren't taking to these SUVs, so the company may as well give them a shot elsewhere.
Reverse: 'The Superstar In Rent-A-Car'
On this day three years ago, Hertz, beset by cratered demand in the early days of the global pandemic, filed for bankruptcy. Now the company is in a far better place, once again embarrassing and sometimes arresting innocent Americans just like it was 2019.
Neutral: Car Buying Vibe Check
Have you bought a new car recently? How was the experience? Is it really getting better out there?