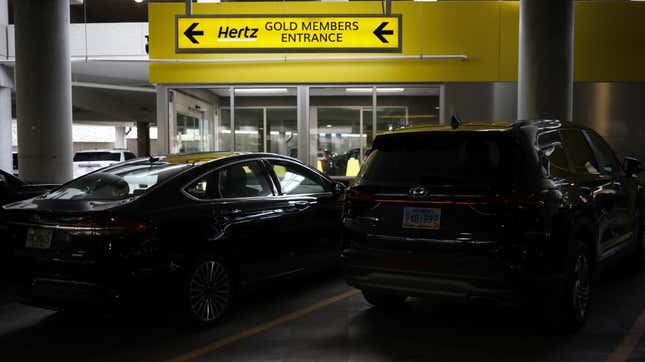 Hertz has issued an apology for turning away a U.S. citizen at one of its car rental locations, claiming the customer was required to show a U.S. passport. A Hertz worker denied Humberto Marchand's reservation at the Louis Armstrong International Airport in New Orleans, Louisiana, after demanding Marchand show his passport, despite his Puerto Rican driver's license being a valid ID according to Hertz's own policies.

Chase Elliott Explains the Challenge of Adapting to NASCAR's Next Gen Car
Marchand is an American citizen from Puerto Rico, which has been a U.S. territory since 1917 (although those born after 1898 were then granted U.S. citizenship) and boasts representation in Congress. He was traveling to New Orleans — officially considered domestic travel — and had paid for a Hertz car rental at the Armstrong airport in advance.
Marchand showed the clerk at the rental counter his driver's license, which contains Spanish and English text since both are the official languages in Puerto Rico. What followed was a tense exchange between the traveler, Hertz employee and a Kenner police officer, who reportedly threatened to call Border Patrol...on a U.S. citizen.
CBS Correspondent David Begnaud breaks down the encounter, which was partially captured on camera by the spurned traveler, Humberto Marchand:
In the footage, we see the Hertz employee demand that Marchand present his U.S. passport. The request assumes Marchand was a foreign national rather than a U.S. citizen, and not only was the Hertz employee operating under an incorrect assumption, but she was also in violation of Hertz's own terms, which state that a Puerto Rican driver's license, is a valid form of I.D.
Marchand repeatedly told the worker this, but the Hertz employee asked if he would like her to call the police. Marchand said yes, please, and Kenner police arrived on the scene; the officer who spoke with Marchand turned off his body-worn camera at some point during or after the exchange, but Marchand insists the officer threatened to call Border Patrol and have him removed.
The Kenner police claim a departmental review of the footage did not confirm the officer's remark. The department suggested that Marchand file a complaint, and that it would allegedly investigate further.
Hertz issued the following statement:
Hertz accepts Puerto Rican driver's licenses from our customers renting in the U.S. without requiring a valid passport. We sincerely regret that our policy was not followed and have apologized to Mr. Marchand and refunded his rental. We are reinforcing our policies with employees to ensure that they are understood and followed consistently across our locations.
Hertz has refunded Marchand's reservation but it's unclear if the traveler was able to rent a car from Hertz, after all. It would seem like rival Enterprise or Budget, etc., just gained a life-long customer. According to Hertz, the employee who turned Marchand away has been "has been reminded of [the] standing policy related to Puerto Rican driver's licenses," and the company will remind its workers that people from Puerto Rico, are, indeed, American citizens.
The only difference, I guess, is that their driver's licenses are bilingual — as they are. The Guardian notes that the U.S. is home to the world's second largest population of Spanish speakers at 53 million, in second place only to Mexico, which boasts 127 million people who speak Spanish.