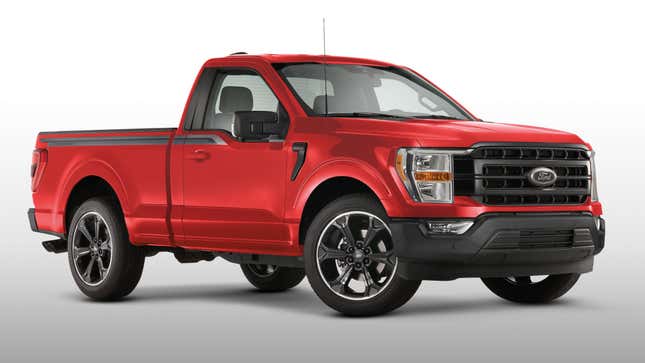 One of the best kept performance secrets on the market is a regular cab pickup with a big V8. Not everyone makes a regular cab pickup anymore, especially one you can pair with a V8. Ford is one of the last automakers to let you do so. You can equip a regular cab, short bed F-150 with the 5.0-liter Coyote V8 and have a good amount of fun for a fairly decent price. If you happen to have $12,000 sitting around, Ford will sell you a performance pack for that truck that'll get you 700 horsepower covered by a warranty.
The package, available through Ford Performance, is available in two editions: FP700 Black Edition and FP700 Bronze Edition. For $12,350 that gets you exterior details like bed striping and wheels in black or bronze paint, a black painted grille, "FP700'' interior badges and a lowering kit. While that's all cool and sure to make you look the part, the real gem of the kit is the supercharger.

The bulk of the price of the package if you don't want all the visual stuff (you can buy the supercharger alone for $9,500) is a 3.0-liter Whipple supercharger. Bolting it to the 5.0 liter V8, which already makes 400 horsepower and 410 lb-ft of torque, ups output to a wild 700 hp and 590 lb-ft of torque. That power gets covered by a three year/36,000 mile warranty so you can do burnouts to your heart's content.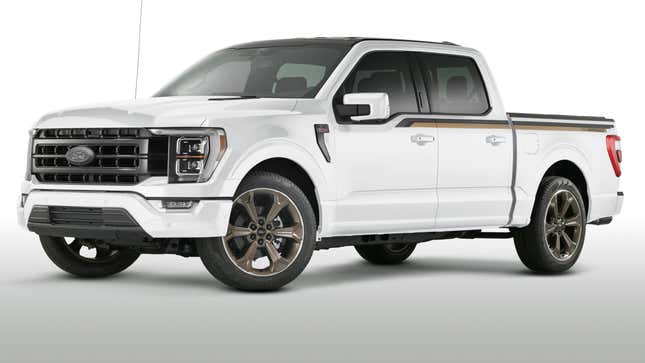 If the regular cab doesn't work for you, don't worry, as the package is available for XL, XLT, Lariat and Platinum trims of '21-'23 F-150s in every cab and bed configuration. But you don't want that. As Motor Trend pointed out, the best bang for your buck would come from a no optioned, steel wheeled regular cab F-150 XL with the 5.0 for $37,925. Add in the FP700 Package, and you've got a 700 hp sleeper for just over $50,000.