When you think Mini Winnie, do you envision Danica McKellar during the first season of The Wonder Years? Or, does that phrase elicit visons of fuel efficient RVs like today's Nice Price or Crack Pipe Winnebago Centauri, from all those years ago? Either way, will this one's price leave you wondering?
You know, if things truly do go better with Coke then yesterday's 1988 VW Rabbit Cabrio wouldn't have gone flat in a 70% Crack pipe loss. Derisively referred to as a 'bitch basket' by many of you, it seems that VW's first-gen front-drive drop top carries with it the taint of its implied stereotypical owner.
Of course, should you not want to be typecast by the vehicle you drive, then pack up your bags and move into today's wacky Winnebago - which is a 1985 Centauri. That's right, you no longer have to be confined to the basement at your mom's house, constantly having to hide the wads of tissues next to your Dell everytime she comes down to do a load of laundry.
Designed in response to the gasoline supply and pricing chaos of the '70s, the new small Winnebago RVs were based on the front-drive Renault Trafic van. Available as the full-on sleeper cell Lesharo and Itasca Phasar (which was no doubt stunning), or like this Centauri (warning: pdf and incredibly creepy dude), as a 7-passenger party bus/slacker crib.
G/O Media may get a commission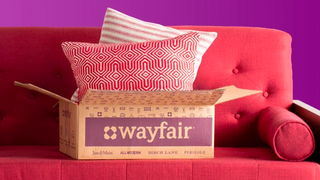 Big deals
Wayfair Surplus Sale
Early editions of the Renault-based RVs had a 57-horse turbo diesel and manual gearbox, which, when combined with their near-5,000 pound weight, made them perilously close to being immobile homes. According to a contemporary WSJ article, they were also deemed to be the most problem plagued vehicles sold in America, and performance-related issues eventually resulted in a class-action suit. By the time this Centauri rolled off the line the oil burner had been replaced by a 2.2-litre gas four shared with the Renault Fuego and Medallion. Backing that up here is the standard 3-speed automatic, which the ad notes is really a fixed gear (hipster!) as it refuses to go above first. Remember that.
The Centauri isn't a full-on home away from home as it lacks a kitchenette or any form of dining table/meth lab. What it does have is acres of gnarly orange velour upholstery and a couch in the back. All it needs is a cheesy coffee table to prop up your feet, and that old DLP you've been eyeing at the Goodwill drop-off to make this feel like your own sin bin. After all you don't want to be bothered with cooking, and with its compact dimensions, it'd probably fit through the drive-thru at Jack in the Box just fine.
And when you're done gorging yourself on delicious pink slime-infused fare, you can retire to this Winnebago's most awesomest feature. That's right, no longer will you need to skip to my loo, as this Centauri has one mere feet from the driver's seat. Who hasn't dreamed of taking a dump in their car? I know I have. You could even enjoy a moving violation if you get someone else to drive while you're dropping a deuce. All that work may make you all tuckered out, and while this 'Bago doesn't come with a full-sized bed, that couch looks mighty comfy. Plus, with that velour upholstery and some sweet corduroy pajamas you'd be locked in place for the night, even if someone does see your van a-rockin.'
Additional bonus points come from the BRAND NEW TIRES noted in the ad and traditional Winnebago brown over white color scheme. That paint, and in fact the whole body, looks to be in pretty good shape. On the has-a-sad side there is the issue with the Renault gearbox, a transmission notorious for having made of spider webs and socialist apathy. These days the only person in the U.S. that's able to repair it is probably some lone beret'd individual named Pierre Bellicose who'll charge you up the wazoo and then laugh at you in French: Moo-hoo-ha-ha!
But the thing of it is, the seller is asking $900 for this Centauri. Now, home prices in the U.S. have collapsed in recent years, but geez under a grand for a place to call your own? That might be worth considering even if your only goal is to just park it in your parent's driveway so you can brag to your friends about how you've finally moved out of the house. Plus, what beater better way is there to attend a LeMons race than from your own near LeMons-priced RV? Plus-plus, your own private thunder throne!
So, considering the tranny problems, and the expired Utah tags, does being only nine Benjamins away from taking your poop on the road seem like a bargain to you? Or, for that price, is this a Winnie whose lights are on, but nobody is at home?
You decide!
Mendocino Craigslist or go here if the ad disappears.
Help me out with NPOCP. Click here to send a me a fixed-price tip, and remember to include your commenter handle.