If you can't wait for the rumored new Ford Bronco—whatever that may actually be—then take a gander at today's Nice Price or Crack Pipe classic XLT. It's pretty much everything we hope a new Bronco might be, but we'll still have to see if this one's price has you saying no bucking way.
Wow, sorry about the poll yesterday, that was giving me all kinds of panty twists. Also problematic apparently was the price on the JDM 1990 Honda NSX that poll considered. The ad said that it could be the only one in the U.S., however a quick scan of the Craigslists proved that to be a hollow boast. In the end I think it was the automatic transmission that sank it, and sink it did in a 67% Crack Pipe loss.
Fortunately today's 1979 Ford Bronco XLT comes with… an automatic too?! Argh! Oh well, at least the steering wheel is on the right—er, left—side.
As you've all no doubt heard, Donald Trump notoriously derided the Ford Motor Company this year for its plans to move small car production to Mexico. After all, how will they get them back here over that big beautiful wall? What Trump's bellicose bloviating did handily reveal though, is that Ford intends to replace the small cars making a run for the border with a pair of—what else-trucks: a new Ranger and a Bronco.
G/O Media may get a commission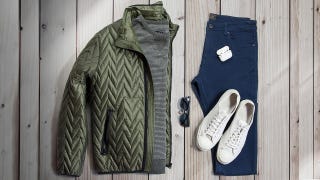 60% off
Jachs NY Fall Sale 60% Off
Now, we don't know exactly what those will be, but there does seem to be a cadre of fans for each model that is eagerly anticipating their debuts. Should you not care to wait then there are plenty of old school Broncos around to let you get your Bronc-on.
The thing of it is, most of the old Broncos can be divided into two classes: pristine examples of the original Jeep-like truck that go for crazy sums, or the clapped-out rust buckets later versions that tend to be survivors but make you wonder at what cost. This one seems to fall in a gray area in between, sort of like mama bear's soup, or the Red Lobster.
The bodywork on this second-gen Bronco does show a healthy patina of use, but there's apparently no rust as it's spent its life living in the dry and dusty Southwest. The two-tone white and rootbeer paint is perfectly serviceable and the few body boogers evident seem par for the course.
Below that are fat BFG A/T tires mounted on Centerline-like alloy wheels which together look massive in the wheel wells as the truck sits at factory ride height. Both the bed cap in back and the racetrack trim on the sides seem to be intact, further dressing up the truck.
On the inside, the truck's 69,000-miles shows up with some minor wear and tear, and the re-skinning of the driver's seat and carpeting show it's now partially on its second lap of use. This truck sports the XLT trim so it's fancier than say, a Motel 6, and the only major issues there seem to be some floppy door pockets.
Pop the clamshell hood and you'll find a 400-CID V8, a Cleveland mill good for… are you ready for this: 158-bhp and 277 lb-ft of torque. Backing that up is a three-speed C6 automatic and 4WD with locking front hubs. Power steering and brakes ease the driving duties while a disconnected A/C raises the sweat potential while doing so.
Factory dual shocks and a tilt-wheel option are noted in the ad as rare. Also mentioned by the seller is that this has been adult owned and driven and is not a yahoo-mobile. We'll just have to see about that moving forward.
The price to move that forward is $9,500. That likely won't even buy you a third of a new Bronco whatever form that eventually takes, so on at least that count it's a deal. You'll now need to decide if it feels like a deal on all other counts. What do you think, is $9,500 a fair price for this classic—and classy—Bronco? Or, does that price have you saying horsefeathers?
You decide!
Houston Craigslist, or go here if the ad disappears.
H/T to tophatt77 for the hookup!
Help me out with NPOCP. Click here to send a me a fixed-price tip, and remember to include your Kinja handle.