The Thunderbird may be a mythical beast, but a Cobra is one that is very real and potentially deadly. Today's Nice Price or Crack Pipe T-bird comes with a Cobra-badged V8 and a T5 stick, but will that enticement make its price seem like the real deal?
Do any of you live in Lincoln Nebraska? How's the skiing there? Ha, ha, ha.
Somewhat to make up for the boredom inducing lack of topographical variety, last Friday we had a Lincoln-located 1962 Willys Station Wagon. It was offered up by a local used car dealer, out of the collection of one of its soon to be retiring employees. Rough as it may have been, it still was presented as a runner, and at a price that raised eyebrows in a good way. That combination resulted in a solid 82% Nice Price win.
You know what, that Jeep was one of four out of five contenders last week to take home a Nice Price prize. The only exception was Wednesday's crazy pricy BMW M5 which, while perhaps not a deal, is likely in the range of where those cars are going. Sad! Let's see if this week's contenders continue the happy trend, and let's start with this interesting and very tidy 1986 Ford Thunderbird Elan coupe.
G/O Media may get a commission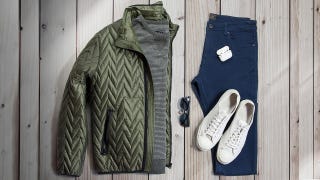 60% off
Jachs NY Fall Sale 60% Off
Now, the Aero Bird, which was introduced in 1983, offered a major reset for Ford's mid-size personal coupe. Debuting in Stroker Ace, the admittedly terrible Burt Reynolds movie adaptation of the essential racer novel Stand On It, the eighth generation Thunderbird was a bar-of-soap slippery revelation.
In fact, it so redefined the marque that I'll bet you can't even picture the T-bird that came immediately before. Be thankful for that because it looked like this.
Not only did the Aero Bird look a hell of a lot better than any T-Bird had a right to, it also ushered in a new era of performance for the model not seen since the supercharged two-seat cars of the Fifties. Hell, the car even could be had with a five-speed stick when you checked the turbo Pinto engine option box. Unfortunately, you couldn't get that shifter with the equally optional 302 V8.
This one has the 302 AND a T5. It's also an Elan so it has pretty much every option Ford could throw at it back in the day.
That 302 is an FI unit from a '90s-era Mustang, and it benefits from a GT40 intake (pretty, pretty), Hooker headers, and what's described as a "small cam." It's also covered in snakes, however this is apparently not an original Mustang Cobra mill, at least ad doesn't note it having Cobra/Explorer heads. The battery has been relocated to the boot to make room for all those asps.
The T5 operates through a ball-topped Hurst shifter and sends power back to a TractionLoc (limited slip in Ford-speak) 3.73 rear end. Side pipes with what are described as "blown out mufflers" talk the talk.
The bodywork looks excellent, which it should for only 29,000 miles. The two-tone paint is more fancy than fierce, but it still looks pretty nice. Mustang Turbines fill the wheel arches nicely, and a two-scoop hood off of the later Turbo 'Bird mixes things up on top. It also makes me hungry for Raisin Bran.
The interior is equally nice, although the leather seats, while seemingly intact, look flatter than two-day old beer. The car has a chrome bolt-in roll bar because, why the hell not, and a digital dash which is so Eighties it makes me want to V-J on MTV. Ford's old digital dashes seem to hold up better than the ones GM offered. I don't know why that is. Here you get both numbers and a French Curve tach, and if that's not enough there's also an electronic climate control that still seems to be working.
The seller says that all the custom work was done in the '90s, and that the car has been garaged most of its life. That work looks to be well done, and after all who doesn't like a speckle-finish engine bay, I'm asking you?
This generation of Thunderbird was based on the Fox platform and while it has a number of parts that aren't interchangeable with the Mustang or its other cousins, there are still a ton of pieces that are. Also, you just don't see these all that much any more, and when was the last time you saw one this nice?
All that comes at a price, as such things invariably do. In this instance that's $8,500 an amount which will buy you a couple of decent Mustang GTs. Of course this is far more unique than your run of the mill 'Stang, and is in my opinion a lot better looking to boot.
Of course, it's your opinion that matters—you're welcome— and so I now want to know what you think. Is this Custom Elan worth that $8,500 asking? Or, is that price just the seller trying to flip us all the Bird?
You decide!
Lancaster PA Craigslist, or go here if the ad disappears.
H/T to 8000rpm for the hookup!
Help me out with NPOCP. Click here to send a me a fixed-price tip, and remember to include your Kinja handle.