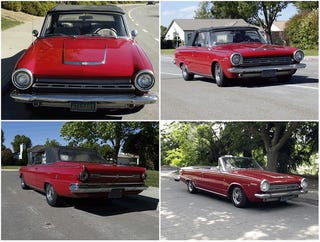 Nice Price Or Crack Pipe
Is this used car a good deal? You decide!
Long before touch-tone phones replaced rotary dials, Dodge gave us pushbuttons for our trannys. Today's Nice Price or Crack Pipe '64 Dart has its Torqueflite all buttoned up, and its top goes down, but is its price a bulls eye?
If you are a Hipster, chances are you already drive a car like this Dodge Dart GT convertible. Your car might not be in as nice of condition, and it may not be powered by the 180-bhp 273 cid V8, or have Daytons and front disc brakes, but none of that will matter to you because you are interested in image over substance, being a Hipster and all.
For the rest of us, those lacking a carefully constructed three-day's beard growth, or for the ladies, who are channelling Ellen Page, those notable elements of this senior compact from what eventually became the Ram Brand will make you prick up your ears. Not only does this '64 rock the 273 (although not the 235-bhp Commando made available the following year), but 1964 is also the last year that pushbutton transmission control was made available. That novelty replaced the traditional back and down yank of the column shift with gear selection that was as full of potential as picking a jukebox track. Next to the tranny poking buttons on the dash is a 110 MPH speedo where the numbers flip after ninety so you'd never be confused that you were going 011 miles per hour. Giving you an almost unfettered view of the speedo and the rest of the gauges is a two spoke steering wheel thin as a junkie, and in the center of that is the commemorative badge denoting the golden shower anniversary of Dodge, 1914-1964.
The rest of the interior is pretty plain even if your name is Jane, and the driver's seat needs to be re-cushioned, having perhaps succumbed to the results of one too many trips through the Taco Bell drive-thru. Outside, the paint is good from far, but far from good as the painted-over truck lock attests. But despite that, all the chrome looks serviceable and the badges and trim appear intact. Getting a new paint job is easy, tracking down two-model year exclusive parts is not. And the Dart nameplate in the sixties seemed like it was in the witness protection program, changing body styles and wheelbases almost every year. This body style lasted two years, '63 and '64 before getting a nose job and a new butt. The '63-'64's strong fender-line and wide grille bookended by the headlamps evoke the shape of the Chrysler Turbine, although the Dart lacks that car's rocket-like exhaust and massive thirst for kerosene. Instead, the wedge chamber 273 LA engine (predecessor to the 318) sported a mild 8.8:1 compression ratio and should do fine on regular. The Dayton 60-spokers and Kelsey Hayes disc brakes are nice upgrades to this Dart, although it does look like the Earl of Scheib anointed the calipers when he did the body.
While keeping us in the dark on the overall mileage, the seller claims only 10,000 miles on the rebuild of the 273. He doesn't however make claim of whether it's the same one the car left the factory with. As the car is uncommon without being count 'em on one hand rare, only the overly anal would probably care about matching numbers.
A number you might care about is the price, which in this case is $8,500. If you're looking for a four-place convertible for a plasma TV under ten grand, there's a lot of more modern machinery out there around that price that have the benefit of ABS, emission controls and A/C. But none of those are golden, shower anniversary Dodges, and definitely none of them let you select gears like your programing the microwave to zap yourself a wiener.
So what do you think of $8,500 for this rare enough to be interesting Dodge Dart drop top? Is that a price that would have you pushing the buttons on your phone, trying to set up a drive? Or, is that too much just to push a tranny's buttons?
You decide!
San Francisco Treat Craigslist or go here if the ad disappears.
Help me out with NPOCP. Click here to send a me a tip, and remember to include your commenter handle.