The concord grape is one of the few fruits native to North America, and a damn tasty one at that. Similarly, today's Nice Price or Crack Pipe Concord is a native American Motors, however will its price have you fruiting your looms?
Look, I'm just going to come right out and say it, if you didn't like yesterday's 1984 Volvo 245 Diesel and were in the 11% minority that didn't vote its two grand asking a Nice Price win, well then you probably also hate kittens, happy endings to massages, and the way your own farts smell. Regardless, we're going to give it another try today!
American Motors is no longer around, the Kenosha, Wisconsin-based automaker's somewhat sad history of mergers, absorptions, and re-brandings finally coming to an end with French parent Renault throwing in la serviette and selling the dregs to whore master brand accumulator Chrysler. All that's left of the marque in dealerships today is a few bits in the Jeep parts book.
G/O Media may get a commission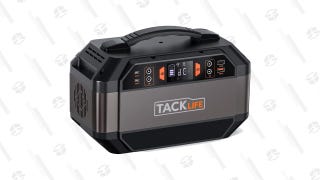 Tacklife Portable Solar Generator
But before it went quietly into that long, dark night, AMC built a butt-load of cars off its long serving Hornet platform, including today's psychedelic '78 Concord two-door. Offered up by a St Louis dealer — now in 3 locations! — this metallic orange over green over Rallye wheels coupe looks like something Wavy Gravy might drive to the freak out. The hood pins may neighbor awkwardly with the standup hood ornament, but overall the car's fit and finish look appreciably acceptable — you know, if that's your bag.
Over its life, the Concord was made available with everything from a VW/Audi four to AMC's 304 V8. This one, while still rocking an American motor, does not actually have an American Motors motor, get that? Instead it sports a 350-CID SBC to which is bolted an equally GM-eriffic 700R4, while out in back lives a 9-inch axle from the Blue Oval boys. The ad claims but 75 miles on this refreshed drivetrain so it's still got some breaking in to do.
While the exterior and mechanicals may seem wildly customized for a Concord, it's the interior that must be seen to be beilibered. Sporting a chrome and pegged wood wheel, and at least three different additional grains on the dash, the insides fairly shout why yes, I wood! The seats however, shout something else entirely, their orange, black and green vinyl looking like something Beetlejuice may have had in his den. Those with weak constitutions need not apply.
But should you wish to apply for ownership of this amazing AMC, then you might want to check your bank account balance and see if you have the necessary $7,995 that the dealer is asking. What do you think, is this custom Concord worth that kind of cash? Or, is this acid trip of a two-door too expensive by too far?
You decide!
Gateway Classic Cars or go here if the ad disappears.
Help me out with NPOCP. Click here to send a me a fixed-price tip, and remember to include your commenter handle.